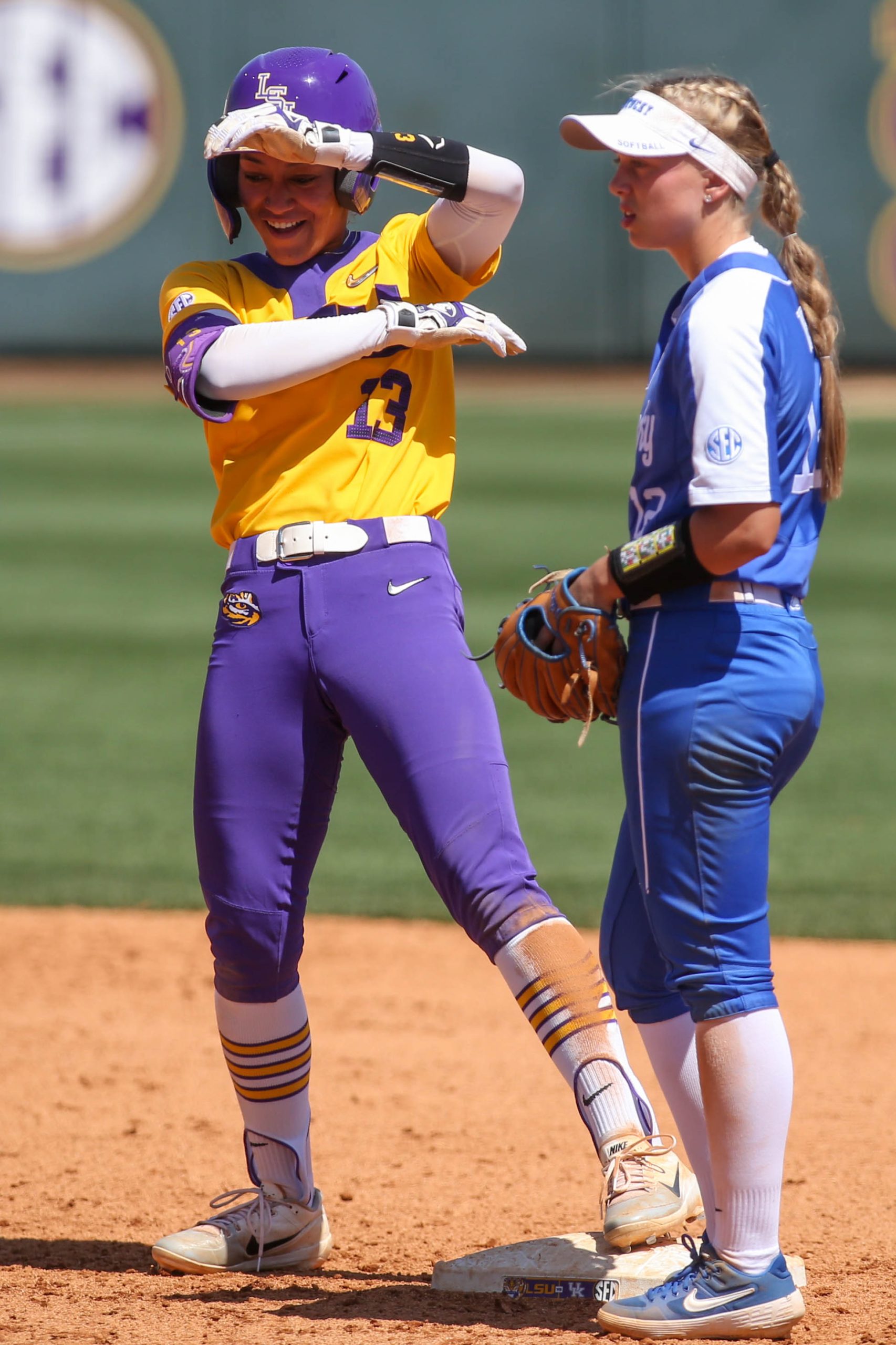 No. 21 LSU's softball returns home following a Southeastern Conference series win to host South Carolina in a three-game league series that begins Thursday at 6 p.m.
The Tigers (24-16, 5-7 in SEC) will also host the Gamecocks (23-18, 2-10 in SEC) at 6 p.m. Friday and 11 a.m. Saturday at Tiger Park.
The first two games Thursday and Friday will be streamed by SEC Network+ and televised Saturday on the SEC Network. The games can also be heard locally over 107.3-FM.
LSU won its second road series 2-1 against Texas A&M after winning the first two games.
Sophomore Taylor Pleasants led LSU with a .545 batting average and a 1.273 slugging percentage behind six extra-base hits, including five doubles and one home run. Junior Ali Kilponen earned both wins in the circle last weekend and finished with a 2.42 ERA with 12 strikeouts and allowed just three runs in 8.2 innings pitched.
Sophomore and leadoff hitter Danieca Coffey, the team's third baseman, leads LSU with a .398 batting average, 51 hits (No. 3 in SEC), and eight stolen bases. Sophomore Ciara Briggs is behind her with a .380 batting average and ranks No. 6 and No. 8 in the SEC with 49 hits and 38 runs scored, respectively. Pleasants has a .325 batting average and leads the team with 19 extra-base hits, including a team-high 11 doubles.
Junior Georgia Clark (.282) and senior Shelbi Sunseri (.260) pace the team with 11 home runs each. Clark ranks No. 2 in the SEC with 45 RBIs, and Sunseri ranks No. 3 all-time in the program's record book with 44 career home runs.
Kilponen is 13-4 in the circle and has a 2.32 ERA with 97 strikeouts in 105.2 innings pitched. Sunseri has a 5-6 record with a 2.95 ERA and 48 strikeouts, while freshman Raelin Chaffin is 4-2 this season on the rubber, has a 3.50 ERA, 36 strikeouts, walked nine batters, has two complete games and one shutout in 10 appearances and 42.0 innings pitched this season.
THE LINEUP
LSU leads South Carolina 47-18 in the all-time series. The Tigers are 4-1 in the last five meetings against the Gamecocks including a 7-3 victory last season in the SEC Tournament. LSU won the last series between the two clubs 2-1 in 2019.
The Gamecocks had their five-game winning streak snapped with a 3-1 setback against No. 16 Clemson in their midweek game Tuesday night. Sophomore Riley Blampied leads the Gamecocks with a .341 batting average with 43 hits, including a conference best 12 doubles, to go along with 24 RBIs and four home runs.
ON DECK
Next for LSU is a 6 p.m. midweek game at McNeese on Tuesday, April 19 before a three-game road series at Georgia April 22-24.