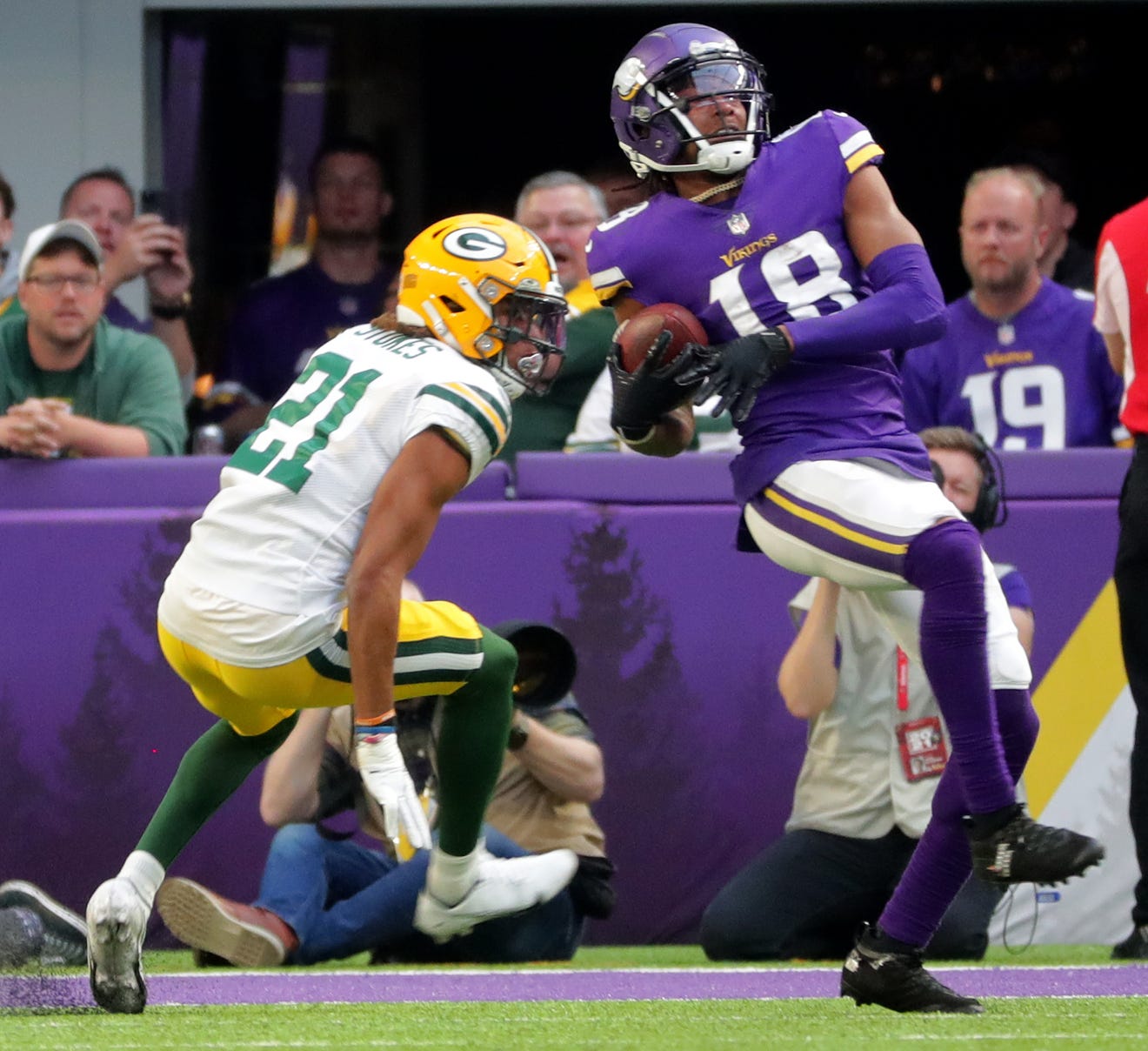 When they were teammates as two of the best receivers in college football on LSU's 2019 national championship team, then-junior Justin Jefferson and then-sophomore Ja'Marr Chase had a friendly game-to-game pass catching competition.
They were the most productive wide receiver duo in college football as they combined for 195 receptions for 3,320 yards and 38 TDs.
Jefferson finished with a school-record 111 receptions for 1,540 yards and 18 TDs. The 1,540 yards ranks No. 3 in school history, while the 18 TDs rank No. 2 behind Chase's 20 in 2019. He led the SEC in receptions and ranked No. 2 in the league behind Chase in yards (1,540), TDs (18) and yards per game (102.7)
Chase won the 2019 Biletnikoff Award as the top receiver in college football. He started 14 games and finished with 84 receptions for 1,780 yards (an SEC single-season record) and 20 TDs. He's also led the nation in receiving TDs and yards and finished No. 2 nationally in yards per game (127.1)
Jefferson made the jump to the NFL last season as the No. 22 overall pick of the Minnesota Vikings in the first round of 2020 draft. He had an immediate impact, making 88 catches for 1,400 yards and seven TDs in 16 games.
Jefferson set the season record for most receiving yards by a rookie in NFL history. He was one of only two rookies named to the 2021 Pro Bowl and was named rookie of the year by The Sporting News.
Chase opted out of his 2020 junior season at LSU because of COVID-19 concerns and to prepare for the 2021 NFL Draft. He was chosen No. 5 overall in the first round by the Cincinnati Bengals, reuniting with LSU 2019 Heisman Trophy winning QB Joe Burrow.
Now back on the same level of competition, Jefferson and Chase push each other on a weekly basis. On Sunday, they helped their teams win.
Jefferson had 8 catches for 169 receiving yards and 2 TDs in the Vikings' 34-31 win over the Green Bay Packers.
In the first quarter, Jefferson turned three targets into three receptions for 104 yards against the Packers, including a 56-yard catch that set up a 1-yard rushing touchdown from Dalvin Cook to give the Vikings an early 9-3 lead.
Chase had 3 catches for 32 receiving yards and 1 TD in Cincy's 32-13 win over the Las Vegas Raiders.
Both Jefferson and Chase have played in 10 of 11 games this season. Here are their stats:
•Jefferson: 63 catches in 89 targets for 944 yards and 6 TDs, 17 catches of 20 yards or more, 3 catches of 40 yards or more.
•Chase: 47 catches in 79 targets for 867 yards and 8 TDs, 14 catches of 20 or more yards, 6 catches of 40 or more yards.
Here's what all former Tigers did in the NFL's Week 11:
THURSDAY NIGHT
New England Patriots 25, Atlanta Falcons 0
Patriots: DT Davon Godchaux 3 tackles (3 solo), 2 TFL, 1 sack, 2 QB hits; CB Jalen Mills no stats; DE Tashawn Bower (practice squad).
Falcons: LB Deion Jones 5 tackles (3 solo); WR Russell Gage 5 catches for 49 yards.
SUNDAY AFTERNOON
Philadelphia Eagles 40, New Orleans Saints 29
Saints: OLB Kwon Alexander 7 tackles (6 solo), 2 TFL; C William Clapp no stats.
Eagles: LB JaCoby Stevens (practice squad), CB Kary Vincent Jr. (inactive list).
Miami Dolphins 24, at New York Jets 17
Dolphins: LB Duke Riley no stats; LS Blake Ferguson snapped for 4 punts, 1 of 2 field goals, 3 of 3 extra points.
Washington 27, Carolina Panthers 21
Washington: OT Saahdiq Charles(inactive list).
Panthers: CB Donte' Jackson 8 tackles (6 solo) 1 PBU; WR Terrace Marshall Jr 0 catches for 0 receiving yards.; DT Frank Herron (reserve suspended by NFL commissioner; TE Stephen Sullivan (practice squad).
Indianapolis Colts, 41 Buffalo Bills 15
Bills: LB Tre'Davious White 7 tackles (5 solo); LS Reid Ferguson snapped for 1 punt, 0 of 2 field goals, 1 of 1 extra points and had 1 tackle (1 solo).
Cleveland Browns 13, Detroit Lions 10
Browns: S Grant Delpit 5 tackles (2 solo), 1 TFL; WR Jarvis Landry 4 catches for 26 receiving yards, 16 yards rushing and 1 TD on 1 carry; CB Greedy Williams 1 PBU; LB Jacob Phillips (injured reserve).
Lions: DE Michael Brockers (5 tackles), 2 solo, 1 TFL.
San Francisco 49ers 30, Jacksonville Jaguars 10
49ers: DL Arden Key 2 tackles (1 solo), 1 TFL, 1 sack, 1 QB hit.
Jaguars: DE/LB K'Lavon Chaisson 4 tackles (3 solo); WR DJ Chark Jr. fractured his left ankle and is out for the season; OT Badara Traore (practice squad).
Houston Texans 22, Tennessee Titans 13
Titans: CB Kristian Fulton 3 tackles (1 solo); ST Tory Carter 1 tackle (1 solo); WR Racey McMath (injured reserve).
Minnesota Vikings 34, Green Bay Packers 31
Vikings: WR Justin Jefferson 8 catches for 169 receiving yards and 2 TDs, 3 yards rushing on 1 carry; CB Patrick Peterson 3 tackles (3 solo); DE Danielle Hunter (injured reserve).
Baltimore Ravens 16, Chicago Bears 13
Ravens: LB Patrick Queen 7 tackles (4 solo), 1 TFL.
Cincinnati Bengals 32, Las Vegas Raiders 13
Bengals: QB Joe Burrow 20 of 29 passing for 148 yards and 1 TD, 11 yards rushing on 3 attempts; WR Ja'Marr Chase 3 catches for 32 receiving yards and 1 TD, 8 yards rushing on 2 attempts; DT Tyler Shelvin (inactive list); TE Thad Moss (practice squad injured).
Raiders: TE Foster Moreau 1 catch for 19 receiving yards, 1 TD.
Arizona Cardinals 23, Seattle Seahawks 13
Cardinals: DT Rashard Lawrence (injured reserve).
Seahawks: S Jamal Adams 8 tackles (4 solo), 1 TFL; OG Damien Lewis started for an offensive line that gave up 4 sacks and helped produce 266 yards total offense including 180 passing and 86 rushing; DT Al Woods 2 tackles (0 solo); C Ethan Pocic no stats; QB Danny Etling (practice squad).
Kansas City Chiefs 19, Dallas Cowboys 9
Cowboys: LB Jabril Cox (injured reserve); OT La'el Collins no stats.
Chiefs: RB Clyde Edwards-Helaire 63 yards rushing and 1 TD on 12 carries, 2 catches for 13 receiving yards; RB Darrel Williams 15 yards rushing on 5 carries,; 1 catch for 11 yards receiving; S Tyrann Mathieu 3 tackles (2 solo).
SUNDAY NIGHT
San Diego Chargers 41, Pittsburgh Steelers 37
Steelers: OG Trai Turner started for an offensive line that gave up 0 sacks and helped produce 300 yards total offense including 245 passing and 55 rushing.
Chargers: DT Breiden Fehoko 3 tackles (1 solo).
MONDAY NIGHT
Tampa Bay Buccaneers 30, New York Giants 10
Bucs: LB Devin White 8 tackles (3 solo), 1 TFL; RB Leonard Fournette 35 yards rushing on 10 carries; ILB Kevin Minter no stats; WR Cyril Grayson (practice squad); CB Rashard Robinson (practice squad).
OPEN DATES
Denver Broncos, Los Angeles Rams