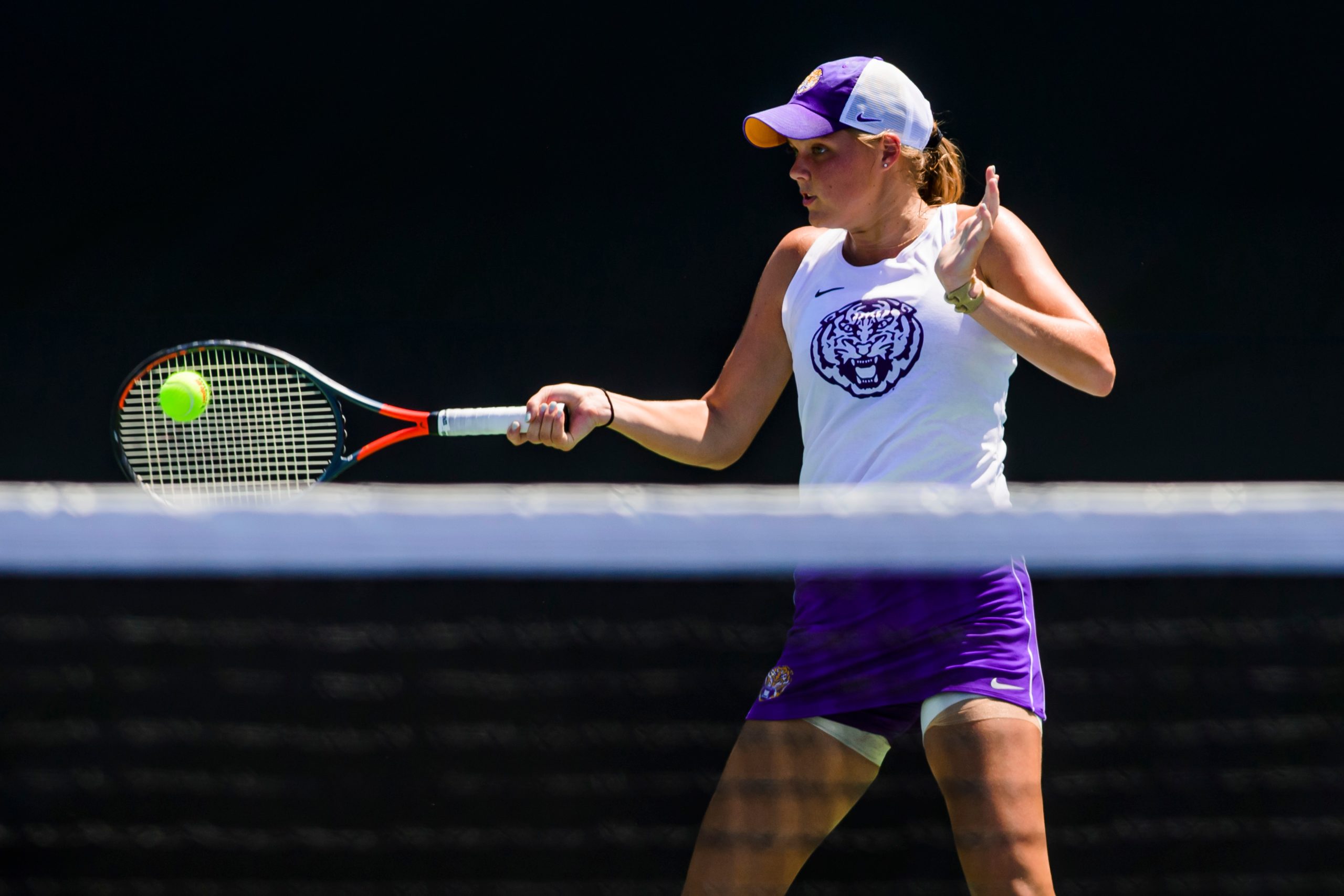 Before offseason training for the 2021 fall season officially began, LSU co-head women's tennis coach Michael Sell said four players were already in town working out with three more arriving a week in advance of the start of school.
The Tigers are coming off a 2020-21 season in which they went 18-7 overall, finished with a No. 17 national ranking and hosted their first NCAA tournament.
"There's tremendous momentum, there's a lot of ambition, a lot of hunger with this team," Sell said. "This team expects to go far in the NCAA tournament. This team expects to contend in the SEC. There's a lot of expectations within themselves about they want to perform and how they want to improve."
With one of the centerpieces of last year's success returning, graduate student Taylor Bridges, LSU also has other key elements in its foundation back in juniors Safiya Carrington, Maggie Cubitt and Nina Geissler.
Sell also bolstered his roster adding graduate transfers Ena Babic of Purdue and Mia Rabinowitz of Illinois, along with top-ranked prep signee Jenna DeFalco of Tustin, Calif. (nation's No. 9 prospect) and fellow incoming freshman Shaye Longwell of Solana Beach, Calif., giving the Tigers a mix of additional experience and depth.
"It's going to be a mature club," Sell said. "It's going to be exciting. We're going to be really deep."
Sell said the ability to add such veteran players as Babic and Rabinowitz and meld into the existing hard-working team fabric was simply a no-brainer.
"It wasn't necessarily the plan," he said. "When we had the unique opportunity to get Ena and Mia to join our program, it's an opportunity you don't pass up on. Both of them have top of the lineup mentality. When we return our top two players from the lineup (Bridges and Carrington), adding those two was an immediate yes."
What Babic and Rabinowitz have found is a program on the rise, one they can augment with their experience and ability to help take another step forward.
LSU, which matched a program best No. 9 ranking during the season, enjoyed its best SEC record (9-4) in 30 years and were seeded fourth in the league's tournament. The Tigers advanced to their seventh straight NCAA tournament where they served in a host role for the first time and reached the second round in the NCAA where they were eliminated by Michigan, 4-3.
"It was a lot of heartbreak knowing there was a belief in the locker room in each other," Sell said of the second-round exit. "You're hosting for the first time and hosting an historic team in Michigan. From the score line, we put ourselves in position to win."
Bridges went 14-12 overall in singles play and was 8-8 in No. 1 singles play with three wins over ranked opponents and earned an at-large berth into the NCAA singles tournament. She was ranked as high as 41st in singles and wound up a first team All-Louisiana selection and second team All-SEC choice.
Bridges topped the team with a 17-4 doubles record where she teamed with Paris Corley, who graduated.
Carrington, a second team All-SEC and All-Louisiana choice, had 10 wins in No. 2 singles, Cubitt went 8-4 at No. 4 singles and Geissler 15-8 at Nos. 5 and 6 singles and she was ranked as high as No. 14 in doubles.
"What's exciting is who's going to take the reins at the top of the lineup," Sell said. "Will that be Taylor, Safiya, any of the new girls, Maggie or Nina? I think every spot is up for grabs and that's going to be the exciting part."
Cubitt was LSU's only player to win both of her NCAA tournament matches against Boston University and Michigan and went 10-4 in dual matches and wound up with 10 wins in doubles with three different partners. Geissler rose to as high as 14th in the doubles rankings.
Babic put together as 55-52 record in singles during her career at Purdue, including a 16-14 mark at No. 1 in her senior season. She also compiled 45 career doubles wins, including 12-4 as a senior playing at the No. 1 spot, and was twice selected All-Big 10.
Rabinowitz had a 47-27 three-year record in singles and 41-24 in doubles, highlighted by a freshman season in which she went 28-9 in singles and 17-9 in doubles.
With Corley having completed her eligibility, Sell said it's possible LSU may feature three brand new doubles teams even though Carrington and Cubitt were 8-6 overall last season, including 4-3 at the No. 2 position.
"We have four to five months of development and improvement in individual tournaments just to see where people are when they come back in January," Sell said. "This is the part where we can make some really big gains and this team and really bond together."
2021 Fall schedule
September
24-26 | at North Carolina Invitational
October
4-10 | at ITA National All American Championships, TBA
14-19 | at ITA Southern Regionals, Tuscaloosa, Ala.
November
12-14 | at Texas A&M Fall Invitational