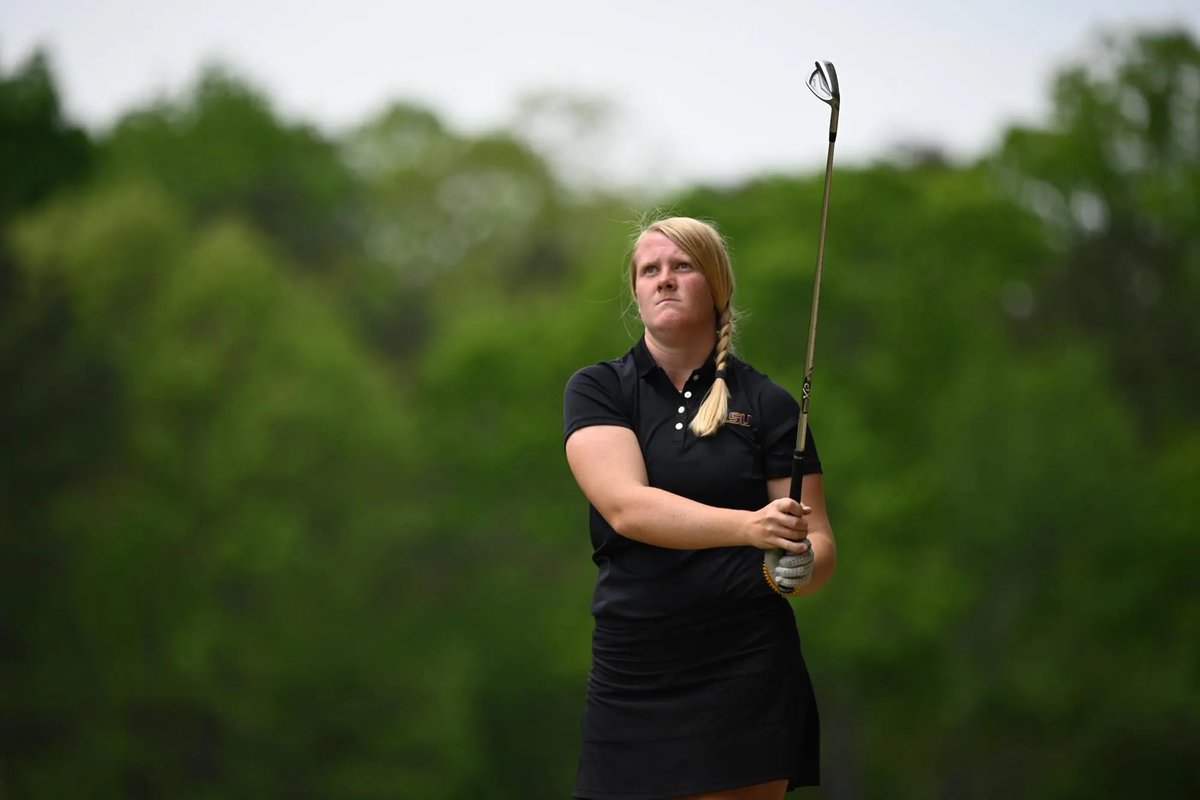 There's the assumption that LSU women's golf coach Garrett Runion faced a huge challenge this past summer swaying two-time All-American Ingrid Lindblad to bypass turning pro and return for her junior season.
The truth of the matter is when Lindblad's Tigers' playing eligibility ends as scheduled after the 2023 spring season, Runion's problem might be getting her to move on.
Because there's not a player on Runion's roster who loves LSU, Baton Rouge and being part of a team more than Lindblad, a 21-year old Halmstad, Sweden native who's currently the world's third-ranked women's amateur player. as the Tigers resume their fall schedule starting Monday in the Illini Women's Invitational at the Medinah (Ill,.) Country Club course No. 2.
When she was forced to return to Sweden in the spring semester of her LSU freshman year in 2020 at the start of worldwide COVID-19 pandemic, she cried when Runion drove her to the airport for the flight home.
"I don't want to leave, I love LSU," Lindblad said to Runion as her tears flowed. "I love my teammates so much. I don't want to be apart from them."
As the leader by example of a program that has won three tournaments, placed second six times and carded a mind-blowing 48-under par in the 54-hole stroke portion of last April's SEC championship since her arrival at LSU in the fall of 2019, Lindblad's fondness for her "second" home never stops growing.
"I really like the team, I really like the coaches, I really like the school," Lindblad said in late September as the Tigers prepared for three tournaments in three consecutive weeks in October.
"I've always liked school because I have an easy time learning things."
She LIKES going to school?
If coaches in other LSU sports read this, they're going to figure out how to clone Lindblad (a sports administration major), teach her their sports and put her on their rosters.
They know it's becoming increasingly hard to find an athlete who stays positive without a negative and selfish agenda, finds enjoyment in life's little things ("I interested in learning about hurricanes and I understand how they work now," she said), is a focused, hard worker who doesn't cheat her God-given gift and is a true team player who gets more excited by teammates' successes than her own.
Lindblad's calling card is her continued excellence, fueled by a consistency in every facet of her game.
"All aspects of her game have been above average," Runion said of Lindblad. "She drives it well, she irons it well, she chips it well and she putts it well.
"Stat-wise, I think her putting has sharpened a little bit. Her total number of putts have come down."
Something that has continued to grow Lindblad's game are her opportunities to play in national and international events outside of LSU's schedule.
Since last December, she has:
• Finished 30th overall at the 75th United States Women's Open in Houston at the Cypress Creek Course at Champions Golf Club.
• Recorded three wins at the 2020 Arnold Palmer Cup to help Team International to a 40 ½ – 19 ½ win over Team USA at Bay Hill Club and Lodge in Orlando.
• Tied for third at the second Augusta National Women's Amateur with a 2-over 218, shooting a 3-over 75 playing the final round on the famed Augusta Nationals course used by The Masters.
• Was 1-2 in matches for the losing international team in the Arnold Palmer Cup at Rich Harvest Farms outside Chicago.
• Won the 2021 European Women's Amateur Championship at Royal Park in Roveri, Italy, finishing with a 12-under 276.
• Shot 7-over and didn't make the cut in the AIG Women's (British) Open at Carnoustie Golf Links in Scotland.
"When I got invited to play in the British Open," Lindblad said, "that's just a totally different event from what we're used to. You see how the pros handle it. It's a great learning experience."
Her win in the European Women's Amateur was impressive because her 12-under score included four under par rounds of 71-69-69-67.
"I played in the leading group (on the final day)," Lindblad said, "and our coach on the par five 18th tee said, `You're in the lead by four strokes. Don't go for it. Just lay up and hit a wedge.'"
Because Lindblad can play year-round because of the mostly-warm Louisiana weather – something she can never do in Sweden because of icy winter weather – she believes her improvement has been palpable.
"I've learned to hit chip shots off Bermuda grass," Lindblad said. "I'm driving the ball further."
Lindblad is long over the culture shock she experienced when she first moved to Baton Rouge. She's adapted to spicy food and open, friendly people, two things largely absent in her home country
"Whenever I go home to Sweden, the food doesn't have enough spices," she said. "I'm like `Mom, you gotta put spices on this chicken.' She said, `I put in a lot of salt and pepper and stuff. I'm like, `I don't feel anything.'"
Then, there's the stoic personality of Swedes contrasted with the "Hey y'all, how's your momma and them" personna of Louisianans and Southerners in general.
"In Sweden, I feel like the people are more guarded and reserved," Lindblad said. "Meet a stranger here and they just tell you their life story."
And so far, Lindblad has a pretty good yarn to spin herself.