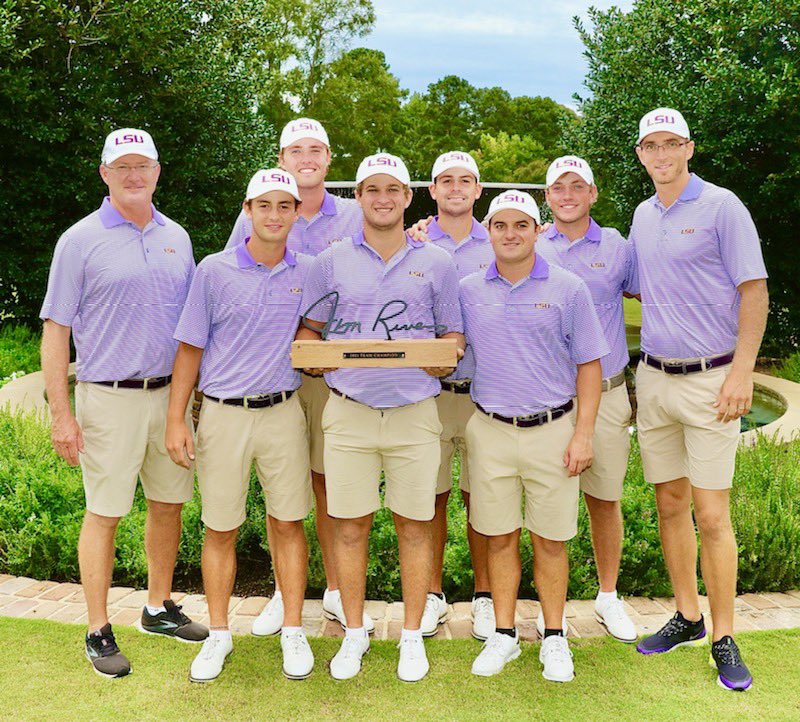 A closing round 13-under par took LSU men's golf team from third place at the start of Tuesday's last round of the Jim Rivers Intercollegiate at Squire Creek Country Club in Choudrant, La. to the Tigers' winning their first tournament since 2020.
LSU finished at 23-under 841, seven strokes ahead of Texas-San Antonio and 10 strokes up on third-place finisher Southern Miss.
The Tigers women's golf team remained 11th in the 12-team field after two rounds of the ANNIKA Intercollegiate at the Royal Golf Club in Lake Elmo, Minn. on Tuesday.
LSU shot a 5-over par 293, placing them at 15-over 591. No LSU player finished the round under par.
For the men, the four Tigers' golfers whose scores counted all finished under par.
Michael Sanders finished in a 3-way tie for seventh at -5 under 211 after an even par final round. Freshman Cohen Trolio carded his second straight round of 5-under 67 to finish 3-under 213, tying teammate Nicholas Arcement at 3-under 213. Connor Gaunt was tied for 21st at 1-under 219 following his 3-under 69 closing round.
Also, Drew Doyle, playing as an individual, finished 10th at 4-under 212.
For the LSU women, junior Latanna Stone and freshman Elsa Svensson posted 1-over par 73s and Ingrid Lindblad and Carla Tejedo Mulet scored 2-over 74s to complete LSU's counting scores for the round.
LSU has played its best golf on the par 3 holes, ranking third in the tournament at 4-over par. The Tigers are fourth in pars at 113.
The final round is the ANNIKA scheduled for Wednesday morning.
LSU MEN FINAL SCORES THROUGH 54 HOLES IN JIM RIVERS INTERCOLLEGIATE
285-281-275 – 841 (-23 under)
T7. Michael Sanders 70-69-72 – 211 (-5 under)
T11. Cohen Trolio 79-67-67 – 213 (3-under)
T11. Nicholas Arcement 70-72-71 – 213 (-3 under)
T21. Conner Gaunt 73-73-69 – 218 (1-under
LSU WOMEN THROUGH 36 HOLES OF ANIKKA INTERCOLLEGIATE
297-294 – 591 (15 over)
T19. Ingrid Lindblad 72-74 – 146 (+2 over)
T19. Carlos Tejeda Mulet 72-74 – 146 (+2 over)
T43. Elsa Svensson 77-73 – 150 (+6 over)
T53. Lauren Clark 76-79 – 155 (+11 over)
T56. Latanna Stone 83-73 – 156 (+12 over)