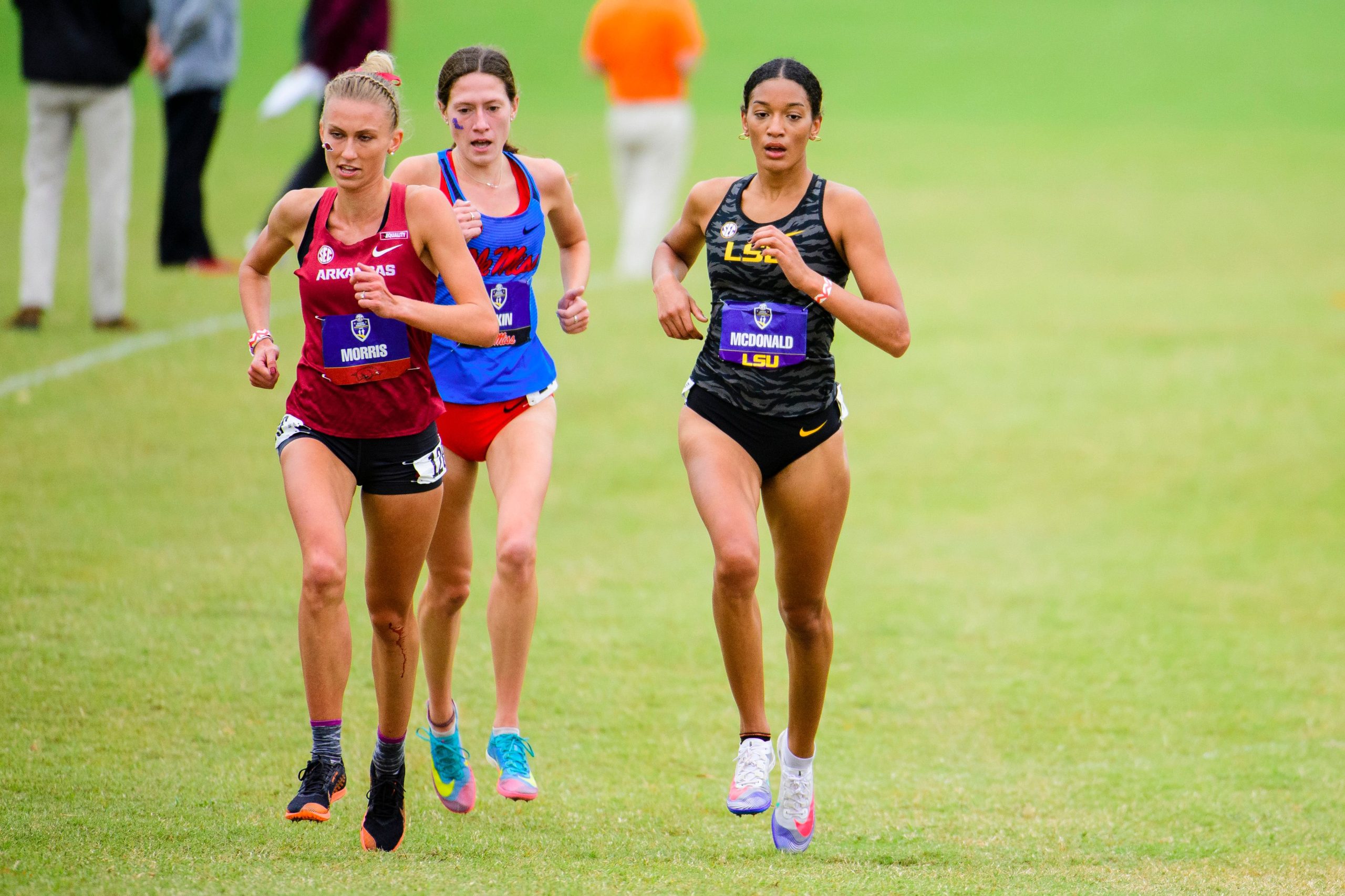 LSU's women's cross country team had a breakthrough season in 2020 with its best finish – fifth place – at the Southeastern Conference championships in 21 years.
With the entire team returning, plus the addition of five new runners, don't expect the Tigers to fall back into the pack this season.
"I expect us to be better than we were last year," LSU cross country coach Houston Franks said. "We're taking the approach that now that we're in the top five we're going to be better. But everyone in front of us may be better as well."
Junior Katy-Ann McDonald, a second-team All-SEC selection and Runner of the Year on the All-Louisiana team, returns to anchor an LSU squad that has the potential to feature better depth.
McDonald produced the best finish for an LSU runner at the SEC championships since 2012 with a 12th place showing (20 minutes, 33.8 seconds). She was followed by Julia Palin in 31st (21.06.6), Shelby Spoor in 37th (21:16.3) and Alicia Stamey (21:29.2), a member of the All-Louisiana team.
McDonald is also looking to build off the momentum of a breakthrough season during the outdoor track season where she won the SEC 800 meters and advanced to the NCAA meet.
During her cross country season, McDonald was second at the Florida State 3K Invitational (17:36.4) and was fourth at Texas A&M's Arturo Barrios 6K Invitational (20:51.30).
"She's very talented," Franks said. "She's a great competitor. When she puts the jersey on there's a little extra get up and go that's she's got. She shows up in the big moments when the lights are brighter. She races fearless. She's not scared to be aggressive, and she's not scared to lose. She really understands how to be aggressive and tough. She's someone we're going to count on big. She's experienced. She's definitely a big piece of the puzzle."
Palin returns for her junior season, having produced a pair of third-place showings last fall at Texas A&M (20:44.9) and Florida State (17:41.1), while Spoor distinguished herself in his first season in LSU's program. The native of Coppell, Texas became the first runner in program history to be named the SEC's All-Freshman team and was also selected the state's Freshman of the Year.
Spoor's finish at the SEC championships was the fifth best among freshman runners and she scored in three of four meets for LSU in her first season, including a best eight-place finish at Florida State (18:18.0). Stamey, a graduate student, had a pair of top 10 finishes at Florida State (5th, 17:55.8) and Texas A&M (7th, 21:07.8) to her credit.
"I expect us to be better than we were last year," Franks said. "We take the approach that know that we're in the top five. We're going to be better. But everyone in front of us may be better as well. As long as we stay healthy, we're going to be better than we were last year."
Franks believes LSU's chances will be further enhanced by a pair of sophomores in Ashley Lajoices and Lorena Rangel. LaJocies was 67th at the SEC meet (21:51.2) and also flourished during the outdoor track season in the 3000 (10:04.09), 5000 (17:28.75) and 3000 steeplechase (11:05.78). Rangel is expected to provide a boost after not running cross country last season but enjoyed a solid outdoor track season where she turned in the team's best time in the 1500 (4:19.76) and was second in the 800 (2:04.98).
"Shelby, Ashley and Julia are just tough kids," Franks said. "They've brought a demeanor to the team that's been really good. They just never give up. They've bought into the culture."
Junior Adele Broussard was 80th (22:04.3) at the SEC championships and scored in two of her team's meets highlighted by ninth-place showing at Florida State (18:19.0) but Franks is also counting on contributions from graduate transfer Doria Martingayle of Virginia, the older sister of LSU men's runner Jackson Martingayle.
Franks has also added in-state signees Sophie Martin of St. Joseph's Academy – the state's Gatorade Runner of the Year and Class 5A champion – to go with Class 2A champion Callie Hardy of Episcopal, Carly Nicholson of Monroeville, N.J., Michaela Rose of Suffolk, Va. and Hailey Day of Rogers, Ark.
"I felt like at SECs we beat everybody that we had a chance to beat," Franks said. "There was a gap between fourth and fifth. We've got to make one more jump to get to that next group. That's kind of more a level up and that's what we're trying to get to this year."
2021 Schedule
SEPTEMBER
17 LSU Invitational at University Club
OCTOBER
2 Chile Pepper Festival at Agri Park, Fayetteville, Ark.
16 Arturo Barrios Invitational at Watts Cross Country Course, Bryan-College Station, Texas
29 SEC Championships at Gans Creek Cross Country Course, Columbia, Mo.
NOVEMBER
12 NCAA South Central Regional at Bear Run Cross Country Course, Waco, Texas
20 NCAA Championships at Apalachee Regional Park, Tallahassee, Fla.