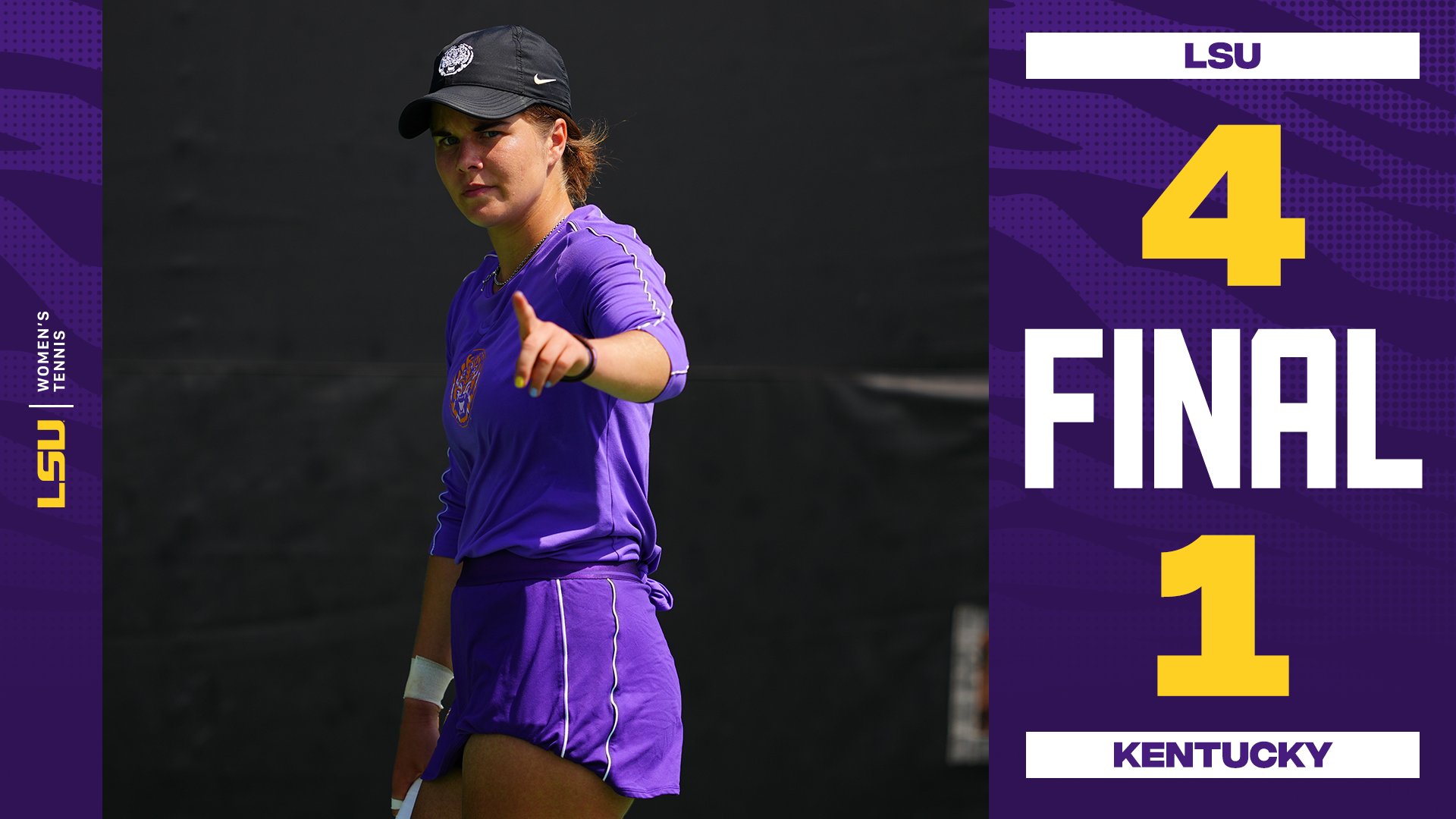 The LSU women's tennis team (3-7, 2-3 SEC) grabbed their second consecutive conference win against Kentucky (12-6, 0-5 SEC) on Friday afternoon at the LSU Tennis Complex.
Selling Points
"Tremendous start in doubles," co-head coach Michael Sell said. "We loved the energy, commitment, and execution we are showing to play at a high level in doubles. Once again, we're showing tremendous strength in singles play at the top of our lineup from Safiya (Carrington) and Nina (Geissler), as well from Rania (Azziz) and her terrific win at No. 6.
"Mia and Ena are true competitors and put themselves in winning positions today. We're continuing to get healthier and we're starting to build some momentum. We'll enjoy this win and start getting ready for Sunday's match against Vanderbilt."
Doubles Results
Taylor Bridges and Safiya Carrington set the tone in doubles play with a 6-1 win over Ellie Eades and Carla Girbau at the No. 2 doubles spot. The duo of Ena Babic and Maggie Cubitt clinched LSU's third straight doubles point with a win No. 1 over Fiona Arrese and Lidia Gonzalez, 6-4.
Singles Results
Rania Azziz was the first off the singles court with a 6-1, 6-1 win over Eades. After dropping the No. 4 singles match, the Tigers extended their lead to 3-1 with Carrington defeating Carlota Molino in straight sets at the No. 1. Molino. She rallied from an early 4-1 deficit for a 6-4 victory and claimed the second set 6-2 for her team-high ninth of the season.
LSU clinched the match with Nina Geissler's straight sets win at the No. 2 spot, 6-1, 7-6 (2).
Up Next
The Tigers host the Vanderbilt Commodores at 11 a.m. CT on Sunday, March 20th.