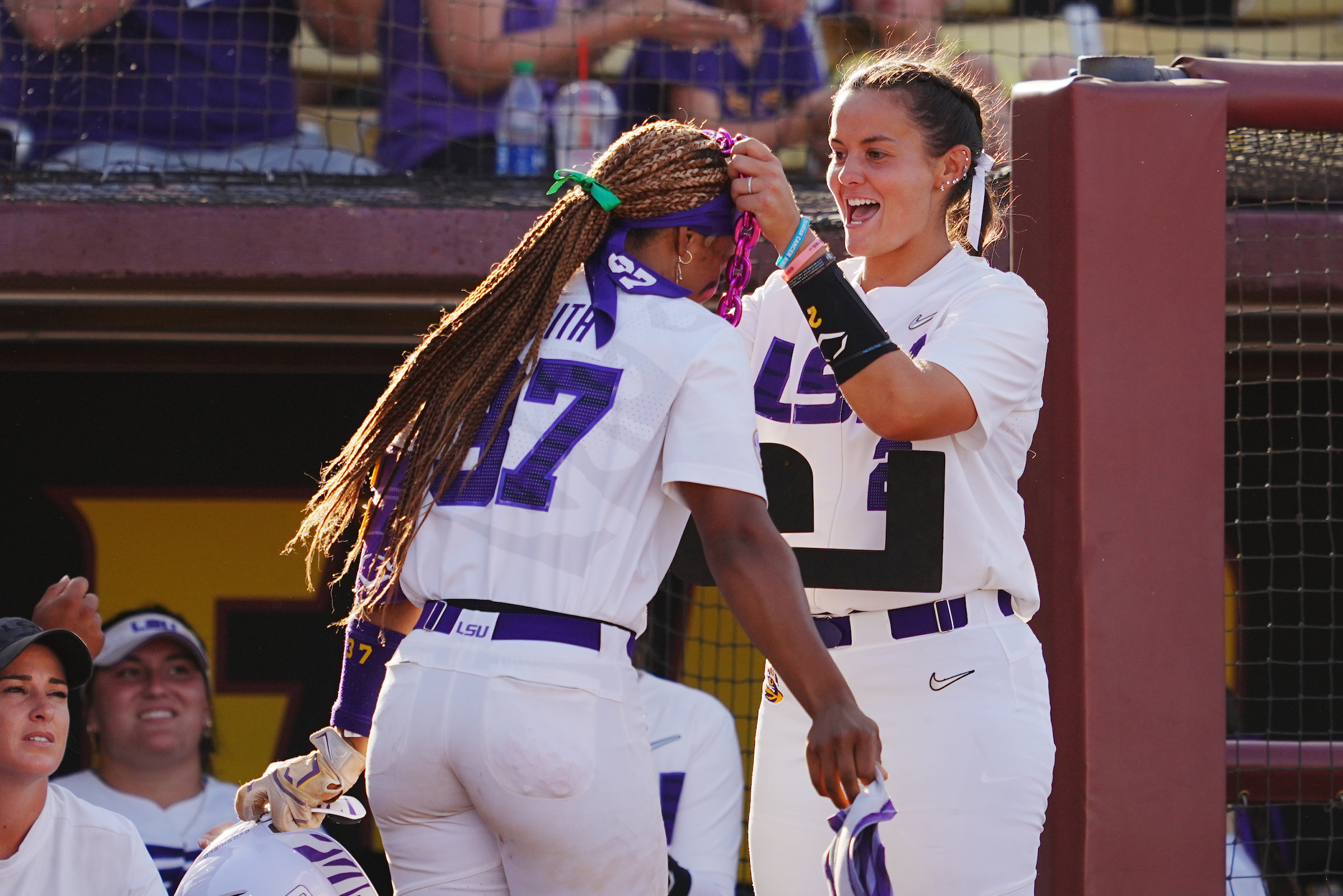 LSU's opening game in Friday's NCAA softball regional against San Diego State was anything but conventional.
The two teams combined for 15 runs and six home runs, including one for each team that glanced off defensive players in the field of play, and bounded over the wall.
San Diego State, which had nearly half the number of home runs as LSU, unleashed a powerful offensive lineup that exploded for a postseason record four homers and the third-seeded Aztecs took a 10-5 victory over second-seeded LSU at Arizona State's Farrington Stadium.

"Ultimately, I think we gave their offense too many opportunities, turning their lineup over and coming to the plate too often," LSU softball coach Beth Torina said.
LSU (34-22) finds its season on the brink in the double-elimination tournament. The Tigers face fourth-seeded Cal State Fullerton, a 5-2 loser to top-seeded Arizona State, at 6:30 p.m. Saturday and would play again 30 minutes later should they win against the Arizona State-San Diego State winner.
The games will be broadcast locally by 107.3.-FM
"One pitch at a time. One inning at a time," LSU designated player/pitcher Shelbi Sunseri said of her team's approach Saturday. "Just win each moment and whatever happens, happens. This is a team that fights and fights until the end and that's exactly what we're going to do."
LSU simply couldn't keep pace offensively with San Diego State, champion of the Mountain West Conference. The Tigers allowed a school-record for runs in a NCAA Regional and second highest run total in NCAA postseason history.
Ole Miss transfer Mac Barbara, a first team All-Mountain Conference selection, was 2 for 3 with a pair of homers and three RBIs. The two homers were the 16th and 17th of the season for San Diego State (38-14) which entered the contest with 32 homers as a team. First baseman Taylor Adams was 2 of 4 with a homer and two RBIs.
"I just went up there as if it was just another ball game," Barbara said. "There were zeroes across the board and keeping it simple."
LSU twice tied the game after trailing by two runs after the first inning on homers from Barbarba and Adams and three runs after 2 ½ innings until the Aztecs' three-run fourth inning proved too much.
San Diego State, which outhit LSU 11-10, tacked on single runs in the sixth and seventh innings against Sunseri in relief to put the game away.
LSU survived San Diego State's first onslaught when Phoenix-area native Morgan Smith hit a two-run homer in the bottom of the second. SDSU center fielder Alexis Schultz appeared to have the ball in her glove, but the ball caromed off her glove and over the center field wall and against a chain link fence to tie the game.
Kilponen (18-8) couldn't slow down San Diego State which answered with a three-run third, signaling the end for the All-SEC first team selection with her team trailing, 5-2.
She was charged with five runs (three earned) on five hits and lasted only 51 pitches before giving way to Sunseri, who pitched into the seventh inning when she allowed Jillian Celis' solo homer. The ball carried into right field where Smith had the ball ricochet off her glove and over the fence.
"I have confidence she gave us everything she had," Torina said of Kilponen. "I'm confident she gave us her best effort; it just wasn't her day. It's easier to go get her when you have somebody like Shelbi Sunseri to follow her and is super talented. You make the move a little quicker in the postseason when you have somebody like that behind her that you're so confident in as well. Obviously, I need to do a better job of calling pitches and keeping them off balance as well. Overall, we need to do a better job of executing."
LSU tied the game at 5-all with three runs in the third inning.
The Tigers got Georgia Clark (2 of 2) and Sunseri on base with consecutive singles and left fielder Ali Newland followed with a three-run homer – her seventh of the season – to center field.
"I thought they did a good job of being prepared, our offense swung well," Torina said. "So many great things from so many players in our offense today. They had a plan and executed it really well."
LSU matched a season-high runs allowed by SDSU starter Maggie Balint but was unable to manufacture any offense against reliever Allie Light. Balint, the Mountain West Conference Pitcher of the Year, allowed five runs on six hits, walked two and fanned two through three innings. Light pitched scoreless three innings of relief, fanned two with no strikeouts.
SDSU gained separation in the fourth when Barbara homered for the second time, crushing a 2-0 offering from Sunseri to center field that made it 8-5. The Aztecs picked up four hits in the inning and scored the first run of the inning on a wild pitch.
"She did a great job," Torina said of Barbara said. "She's a good hitter. She beat us."