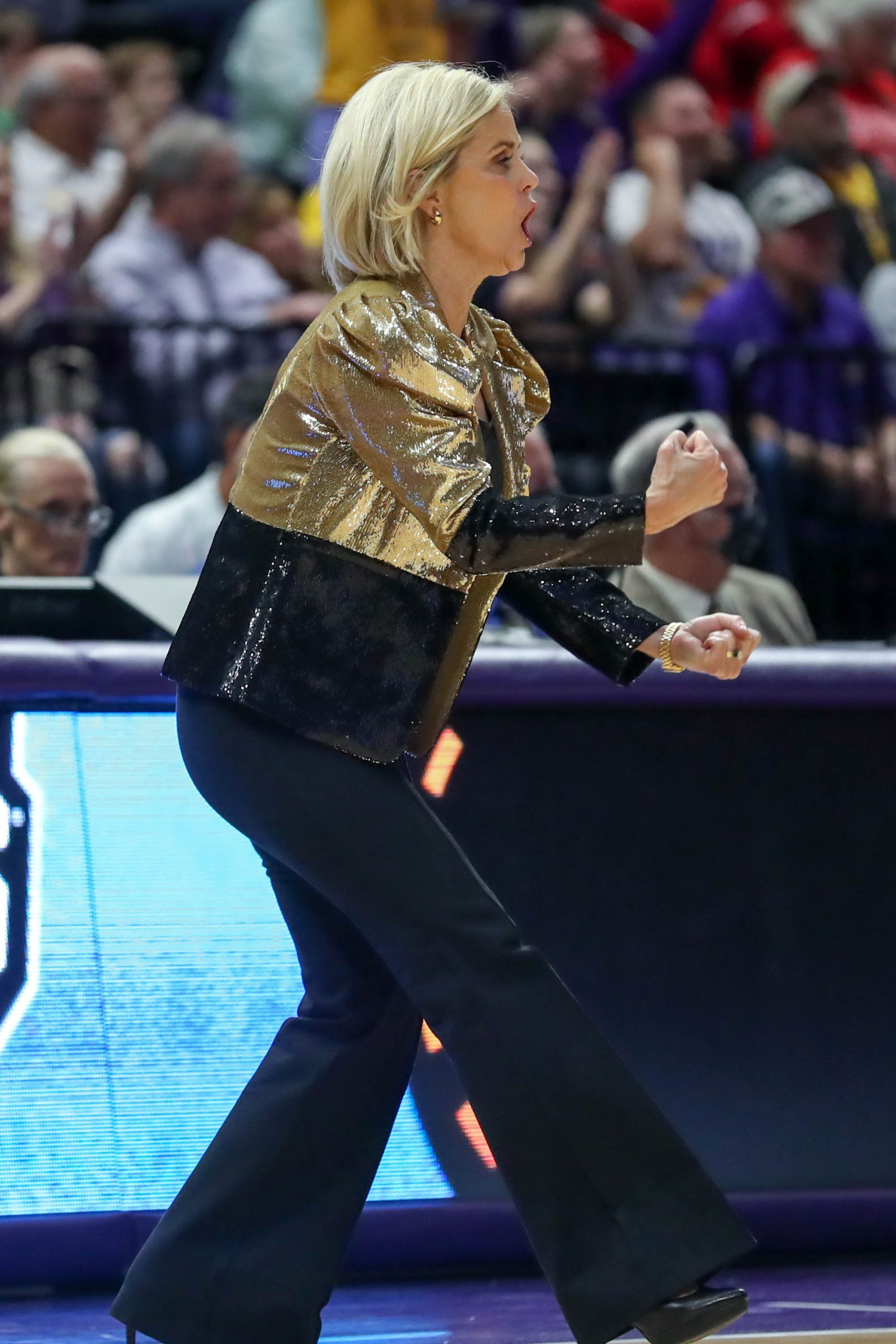 For effect LSU women's basketball coach Kim Mulkey slowed her own cadence so that the moment could grow.

She reminded those seated at Sunday's news conference in preparation for Monday's NCAA second-round tournament game that it's been less than a year since Mulkey was hired, and No. 3 LSU finds itself facing No. 6 Ohio State for the right to advance to the Sweet 16.
"Where did it start months ago," she said. "And here I am still looking at you all. Think about that. How fun is that? As ugly as I am sometimes and as funny as I am, I can't sing a lick. But I like to sing, we're still singing."
LSU (26-5) needed a heroic comeback Saturday against No. 14 Jackson State to create such an opportunity that's been afforded the Tigers against Ohio State (24-6) at 7 p.m. in the Pete Maravich Assembly Center.  The game will also be carried locally over 107.3-FM.

The Tigers, who won their first NCAA tournament game since 2014, haven't been to the Sweet 16 since that same season when they won the first two rounds on their home floor. No. 2 seed Texas, a 78-56 winner over No. 7 Utah, awaits the winner on Friday in Spokane.
"I just know that we just have to go all out," LSU graduate student center Faustine Aifuwa said. "I mean, it's win or go home, and doing it in our home court with our fans for the last time is definitely going to be needed. We're definitely going to need all the fans to come out and support us. So just kind of taking it one game at a time. So just going to enjoy the moment."
LSUs returned to such a spot as a program after a trying 9-13 record last season.
The Tigers have returned to the high-rent district of women's college basketball once again where they've been ranked as high as sixth nationally. Part of their metamorphosis included a 13-3 mark in Southeastern Conference play where they finished second overall in the rugged league.
The 6-foot-5 Aifuwa's been a big part in LSU's 180-degree turn this season, opting to return to school for a sixth year of eligibility and teaming with fellow graduate students Khayla Pointer and Jailin Cherry to lead the Tigers to the best one-year turnaround in SEC history under a coach in her first season. They've also led the program to the most wins since a 31-6 mark in 2007-08, a team that went on to reach the Women's Final Four.
LSU will also play on its home floor for the 18th time this season where the Tigers are 15-2, including Saturday's 83-77 come-from-behind triumph over Jackson State which led 74-64 with 4:54 remaining in the NCAA's first round.
Pointer and Cherry combined for 50 points in their team's win with Pointer leading the way with 26 and Cherry right behind with a career-best 24.
"It's the last game," said Aifuwa, who posted a double-double Saturday with 17 points, 14 rebounds and 7 blocked shots. "It's March. Win or go home. We didn't want it to end, especially for our seniors. We wanted to go all out and just give it everything we have."
LSU's not the only team finding itself attempting to recapture part of its past.
Ninth-year Ohio State coach Kevin McGuff has returned the Buckeyes to a familiar level they hadn't experienced since 2018. They tied Iowa (a team they defeated 95-89) for the Big 10 Conference regular-season championship but lost to Indiana in the second round 70-62 in the second round of the league's postseason tournament.
Ohio State advanced to the second round with a 63-56 win over No. 11 Missouri State, representing the third fewest points they've scored in a game this season.
"One, it was a great environment, which I figured it would be," McGuff said of the PMAC. "The LSU fans really showed up to create just a great opportunity for both teams to play in front of a great crowd. So, I thought that was very impressive. I know it will be similar tomorrow night. LSU did what they always do and what Kim's teams always do. They played incredibly hard. They were physical. They defended at a high level. They were really, really aggressive on the boards. Then they had a combination of driving the ball and making open shots from their perimeter players who were very, very talented."
First team All-Big 10 performer Jacy Sheldon, a 5-10 junior guard, scored a team-high 25 points with six rebounds in her team's win over Missouri State. She's one of two double-figure scorers on the team at 19.7 points (122 assists, 50 steals) along with fellow first team All-Big 10 selection Taylor Mikesell, who's previously played at both Oregon and Maryland, who averages 18.6 points overall and has 107 3s to her credit. She scored 14 and had a pair of 3s in the Missouri State win.
Ohio State, which last reached the Sweet 16 under McGuff in 2015-16 '16-'17, averages 78.6 points and eight 3s per game and holds teams to 66 points per game.
"It's going to be a tremendous challenge for us," Mulkey said. "It's March Madness. I think both teams are talented, and it's going to be a fun day because I know the LSU people will show up, and they're appreciative of the effort we put in yesterday and what the LSU team has done this year."