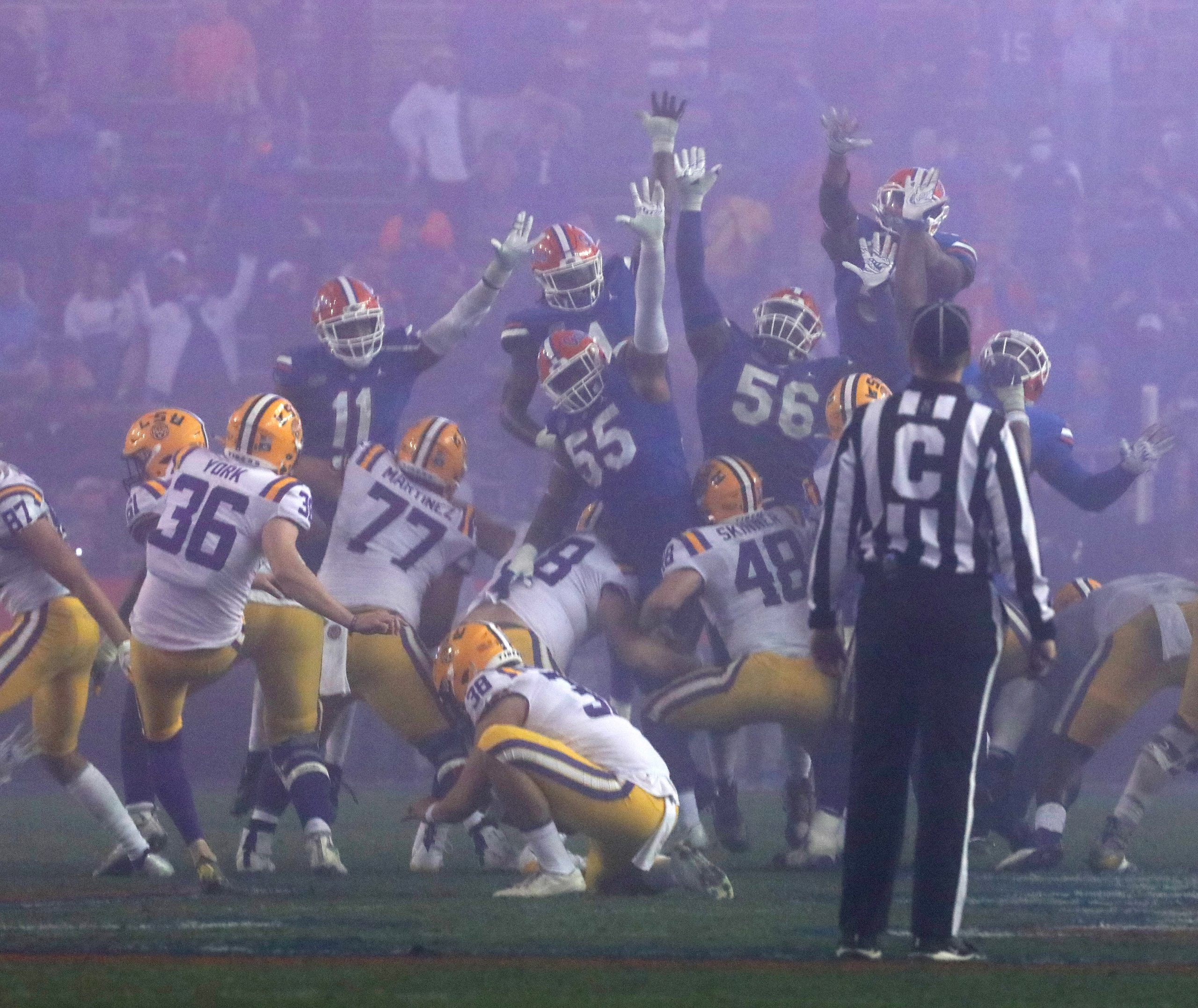 Since last Saturday's 42-21 loss at then-No. 14 Kentucky, it has been a brutal week for LSU football.
As soon as the final horn sounded in the debacle in Lexington in which the Wildcats ran for 330 yards and three TDs, the question on LSU head coach Ed Orgeron's job status changed from if he will be fired to when he will be fired.
"I will say this and I will say it again," Orgeron said earlier in the week. "No one has to tell me about the LSU expectations. "I know 'em, I was born with 'em. I understand this is not the LSU standard of performance. I understand this is my job. I get it totally. I know exactly where I'm at. I won't blink. I promise you I won't blink on anyone."
Also on Monday, Wednesday and Thursday, Orgeron announced the loss of four more starters (three by known injuries) for the season including offensive and defensive playmakers receiver Kayshon Boutte and defensive end Ali Gaye.
It brought the total to eight LSU players, including seven starters, done for the year.
On Saturday, the Tigers (3-3 overall, 1-2 SEC West) are trying to avoid becoming just the second LSU squad in the last 22 seasons with a three-game losing streak when 20th ranked SEC rival Florida (4-2, 2-2 SEC East) visits Tiger Stadium for an 11 a.m. kickoff.
The 2015 LSU team, led by college football's leading rusher Leonard Fournette, won nine straight games to open the season and climbed to No. 2 before consecutively losing at No. 1 Alabama 30-16, at home to Arkansas 31-14 and at Ole Miss 38-17.
It was believed then-LSU coach Les Miles would be fired after the regular season finale vs. Texas A&M. The Tigers won 19-7 and afterwards then-LSU athletic director Joe Alleva announced the school was retaining Miles.
However, after a 2-2 start the following season in 2016 in which LSU failed to score in the fourth quarter of all four games, Miles was fired.
Then-defensive line coach Orgeron, who at that point had 43 games of head coach experience (he was 10-25 at Ole Miss from 2005 to 2007, 6-2 as USC's interim coach in 2013 after Lane Kiffin was fired), was named LSU's interim coach.
Two days after the end of the regular season, Orgeron was named head coach. Counting his interim wins, he was 15-6 heading into 2018 when his job security was shaky.
He responded by going 25-3 the next two seasons, including winning the 2019 national title with 15-0.
But since then, due to an extensive loss of players before the 2020 season because of the NFL draft and opt-outs and then a series of poor coordinator hires on both sides of the ball, the Tigers are just 8-8 overall and 6-7 in the SEC.
The fact LSU has had three consecutive top 5 nationally ranked recruiting classes and began this season with 18 of 21 returning starters, yet have repeatedly made almost the same mistakes in every game this season, has erased 99.9 percent of the goodwill Orgeron banked from winning the national championship.
Now, the weekly drama has ensued on whether he will be fired whenever the Tigers lose their next game.
The way Florida's Dan Mullen looks at it, that's just the life of an SEC head coach.
"Ed (Orgeron) won a national championship there a couple of years ago, he hadn't forgotten to coach in that time frame," said Mullen, who is in his 13th year as an SEC head coach with nine at Mississippi State and now in his fourth season at Florida. "In today's world, your grading as a coach is play-by-play on Saturday and then after Saturdays it's week-to-week. Go anywhere in the SEC and you're really smart (as a head coach) or really dumb and there's no in-between."
Florida fans weren't thrilled two Saturdays ago on Oct. 2 when the then-No. 10 ranked one-loss Gators were flagged for 15 penalties (including eight false starts) in a 20-13 loss at Kentucky.
Just two weeks before that on Sept. 18, Florida played then-No. 1 Alabama to the wire before losing 31-29. The loss still provided optimism for the Gators, which was obliterated by the Kentucky loss.
After blanking Vanderbilt 42-0 last Saturday, Florida will enter Tiger Stadium as a 12-point favorite. The Gators, though they have a completely different offensive emphasis than last season, haven't forgotten the pain of two straight losses to LSU.
Fresh in the Gators' memories is a 37-34 defeat they suffered to the Tigers last December 12 when 3-5 LSU rose up under first-time starting quarterback Max Johnson and took down the then-No. 6 once-beaten home team. LSU's Cade York kicked a game-winning school-record 57-yard field goal through the fog with 23 seconds left.
Johnson, a sophomore who now has eight games experience as a college starting quarterback, has thrown for 1,730 yards, 17 TDs and four interceptions this season. He's done it despite unreliable pass protection and having no offensive balance due to the SEC's second-to-last rushing game averaging 83.3 yards per game and a league-worst 2.91 yards per carry.
On the flip side after Florida was a pass-heavy offense a year ago under then-senior Kyle Trask, Mullen has retrofitted his play-calling to mesh with personnel more suited to running than passing.
The Gators are second in the SEC in total offense averaging 504 yards per game, but 273.7 of those yards come from the league's leading rushing attack.
Yet led by dual quarterback Emory Jones who averages a team-high 79.7 yards per game, Florida has three running backs and two quarterbacks who have accounted for 90.7 percent of the rushing yards (1,490 of 1642) and 100 percent of the rushing TDs (15 of 15).
Though LSU has lost five defensive starters due to season-ending injuries including both cornerbacks and both ends, the Gators' Jones said the Tigers have talent waiting in the wings.
"They have talented guys all over that defense," Jones said. "And they do a lot of different things with that defense."
Even though the odds are seemingly stacked against LSU, Orgeron said he expects his team to come out of the dressing room ready to rumble.
"For what I've seen this week, what I've seen with the coaching staff," Orgeron vowed, "there's a lot of fight left in this team.
"These guys are fired up, it's part of the rivalry. I know a lot of ex-players have been talking to them, calling them and stuff like that. Our guys are ready to play, it's going to be fun."