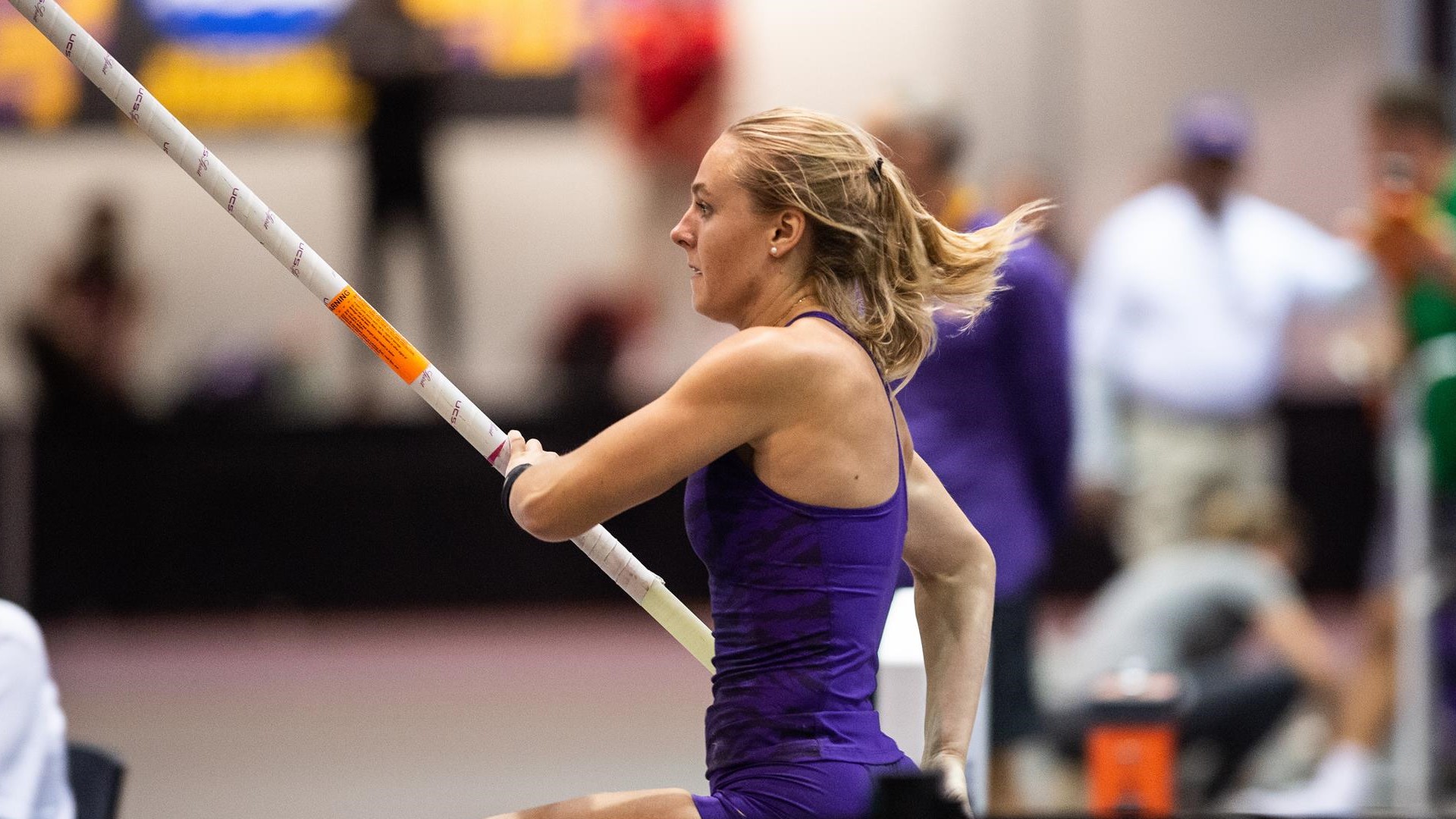 The LSU track & field program will be in action at two different meets this weekend.
LSU's jumpers, throwers, and distance runners will compete at the Bayou Bengal hosted at the Carl Maddox Field House on Friday, while the sprinters and hurdlers head to the New Mexico Collegiate Classic on Friday-Saturday at the Albuquerque Convention Center.
A total of 35 athletes for LSU will compete at the home meet – highlighted by a pair of All-Americans in Lisa Gunnarsson in the pole vault at 3 p.m. and Sean Dixon-Bodie in the triple jump in the triple jump – who will be making their 2022 season debuts.
Gunnarsson holds the LSU school record in the indoor pole vault with a best clearance of 14-11 1/2 that came at the 2021 NCAA Indoor Championships to win her first NCAA title. That clearance of 14' 11.50" also ranks her as the eighth best collegiate performer in the event.
Dixon-Bodie ranks as the No. 6 performer in the LSU record book with a career best indoor triple jump of 54-5 1/4 that he registered at the 2021 NCAA Indoor Championships to finish fifth and earn All-America honors.
The Tigers will have 14 athletes – nine women, five men – entered into the mile run.
LSU will welcome the likes of Alcorn State, Grambling State, Hinds CC, McNeese State, Meridan CC, New Orleans, Nicholls State, Northwestern State, Southeastern Louisiana, Southern University, Tulane, and Xavier (La.).
New Mexico Collegiate Classic
A group of 16 sprinters will go to Albuquerque with quick times on their mind as they will be running at altitude.
Eleven athletes will line up in the 200 meter dash on Friday night including NCAA No. 3 in the event, Favour Ofili. Ofili owns a season best time of 22.80, just off her personal best of 22.75.
Leah Phillips, who lowered her personal best in both the 200 meters and 60 meter hurdles a week ago, will do the double again by competing in the 200 meters on Friday night and running the 60-meter hurdles on Saturday.
USTFCCCA Rankings
The LSU women moved up to No. 5 in the latest edition of the U.S. Track & Field and Cross Country Coaches Association's Rating Index that was released on Monday.