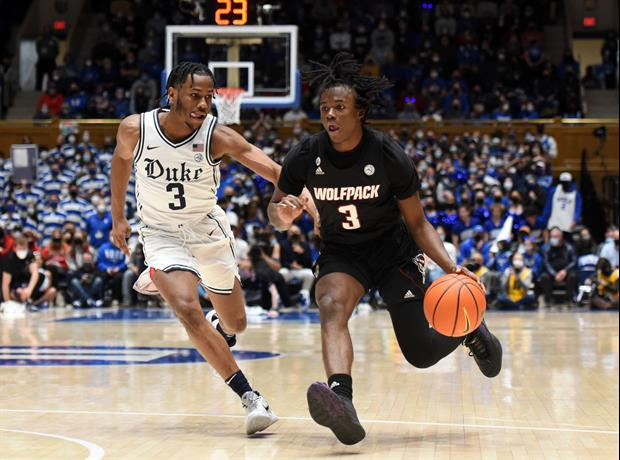 First-year LSU men's basketball coach Matt McMahon continues to stock up on a proven commodity.
His rebuilding project has primarily consisted of players through the NCAA's transfer portal with the latest – guard Cam Hayes – being no different.
The 6-foot-3, 180-pound Hayes entered the transfer portal March 16 following a subpar sophomore season at North Carolina State and following an official visit this week, committed to LSU on his social media account. He would give the Tigers a total of four players – all from the transfer portal – that have jumped on board since McMahon's arrival.
Hayes may have the versatility of giving LSU a player that can play either the point or off-guard position. He became N.C. State's point guard late in his freshman season before losing that spot Feb. 13 after making 13 starts and went scoreless in five outings thereafter.
Hayes, a native of Greensboro, N.C., was the state's third-ranked player out of Greensboro Day School where he was a four-star prospect and nation's No. 68 overall player. He led his school to a 31-5 record and the semifinals of the North Carolina Independent Schools Association tournament.


Hayes selected North Carolina State over finalists Tennessee, Florida State and Virginia Tech and wound up starting in 27 of 55 games, averaging 7.3 points and 2.5 points. He shot .355% from the field, .299% from 3-point range and .756% from the free throw line.
After averaging 7.8 points and 3.1 assists during a freshman season in which he started in 14 of 23 games, Hayes' numbers slipped in 32 games (13 starts) to 7.0 and 2+ assists last season when N.C. State finished 11-21 overall and 4-16 in the ACC. He matched his season in points with 16 in a Feb. 26 game against North Carolina, scoring in double figures 13 times last year.
LSU also signed guard Justice Hill and Trae Hannibal of Murray State and forward Kendal Coleman of Northwestern State.