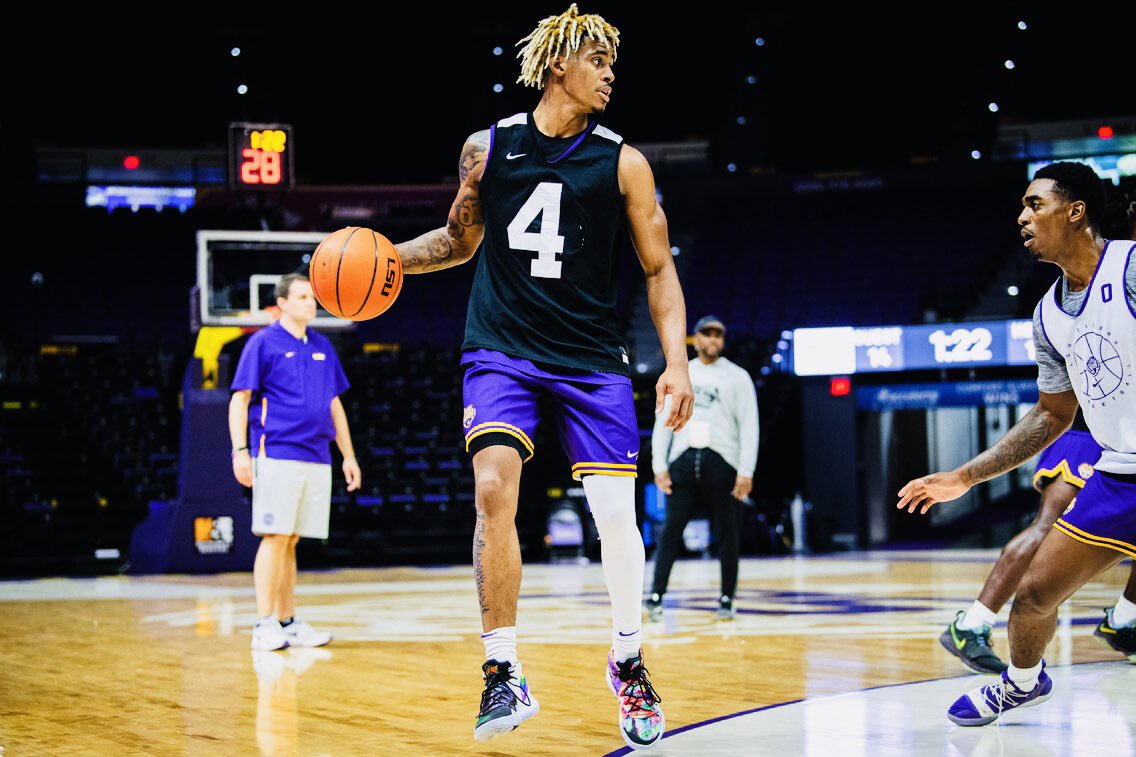 An emotional start to the month of May filled with ups and downs for LSU shooting guard Adam Miller, including good news on the medical front but bad news on the personal front, could be followed with a major decision by week's end.
Miller, a product of Morgan Park High on the south side of Chicago, averaged 8.3 points while starting all 31 games as a freshman at Illinois in 2020-21.
He transferred to LSU for the 2021-22 season but didn't play a game due to a preseason knee injury sustained in October.
Now, according to social media posts, Miller has narrowed his options for next season to two: transfer to TCU, which he visited last weekend, or stay at LSU.
New LSU coach Matt McMahon already has managed to get two of last season's Tigers, starting forward Mwani Wilkinson and reserve guard Justice Williams, to remove their names from the NCAA transfer portal and stay with the program.
When McMahon spoke exclusively with Tiger Rag last week, he wasn't sure if he could convince a third to do the same.
"I'm really not sure at this point," the former Murray State head coach said at the time.
McMahon could find out soon, though, if Miller will make it three to stay.
Miller, who played last offseason on USA Basketball's gold medal-winning Under-19 World Cup team, has indicated his decision will be announced Friday.
If so, it will cap a week that did not start well for Illinois' 2020 Mr. Basketball.
On Tuesday, Miller posted this on his personal Twitter account: "Like how does my room get robbed … a second time took damn near everything"
He followed that comment with this tweet: "I'm down bad bro ain't no coming back from what they took. my keys my bag my shoes my clothes"
Later Tuesday, Miller shared a bright-side post on Twitter: "Good news doc cleared me though even through (sic) somebody ransacked my stuff"
On Wednesday, an LSU basketball team spokesman referred a request for comment on the matter to a university public relations spokesman who did not immediately respond.
Miller did not specify where he was living when the alleged theft occurred.
It's not known if he filed a police complaint to report the incident.
The Baton Rouge Police Department did not respond to a request for information on the matter. Miller also did not respond to a request for comment.
Miller tore an ACL when he was injured in October.
Last week, he tweeted these words of positivity: "The fact to maybe even have the chance to suit up next season just makes me so happy"
On the same day last week, May 4, Miller took to Twitter to squash a media report from TCU 360 in Texas suggesting former LSU coach Will Wade had encouraged him to select TCU.
Wade was fired late in the season amid allegations of NCAA rules violations.
Wrote Miller on Twitter: "Nah just saw him he could see that my head was cloudy his exact words " You gotta do what you think is best for you " "
Miller also wrote this: "Nobody's perfect but Wade takes care of his people and no I ain't talking about no money he's a good man"
If he decides to stay at LSU, Miller would fill one of two remaining scholarships McMahon has open.
LSU was down to no scholarship players on the roster after 11 Tigers entered the transfer portal and two, Tari Eason and Darius Days, declared for the upcoming NBA Draft.
But in addition to convincing Wilkinson and Williams to remove their names from the portal, McMahon has added three of his former Murray State players (Justice Hill, Trae Hannibal and 2022 Ohio Valley Conference Player of the Year KJ Williams); signed former Murray State signee Corneilous Williams; added transfer Kendal Coleman (Northwestern State), Cam Hayes (North Carolina State) and Derek Fountain (Mississippi State); and signed Top 50 high school recruits Jalen Reed, a former Florida signee, and Tyrell Ward.
BRADLEY EZEWIRO TO GEORGETOWN
Former LSU forward Bradley Ezewiro announced this week that he has signed with Georgetown, where he will join former Tigers teammate Brandon Murray and ex-LSU assistant coach assistant coach Kevin Nickelberry, now a Hoyas assistant.
Ezewiro appeared in seven games as a freshman last season.
He becomes the sixth former Tiger to find a new home, joining Murray, center Efton Reid III (Gonzaga), center Jerrell Colbert (Kansas State), guard Eric Gaines (UAB) and forward Alex Fudge (Florida).
REPORT: XAVIER PINSON NARROWS OPTIONS
Former LSU starting point guard Xavier Pinson has narrowed his list of potential new programs to Georgia Tech, Mississippi State and New Mexico State, CBS Sports' Jon Rothstein reported last weekend.
Pinson, who transferred from Missouri to LSU for one season, previously had been considering Mississippi State and Xavier.
He's one of three former Tigers in entered the transfer portal but who have not yet found new homes, along with Miller and Shareef O'Neal.
O'Neal, son of former LSU and NBA great Shaquille O'Neal, was named Monday, along with Days, as one of 44 NBA Draft prospects who'll attend next week's NBA G League Elite Camp in Chicago, a feeder event for the NBA Draft Combine, which also will be held next week in Chicago.
Because he has not yet hired an agent, O'Neal – who transferred from UCLA to LSU – has the option of playing again in college next season should he opt against going pro.