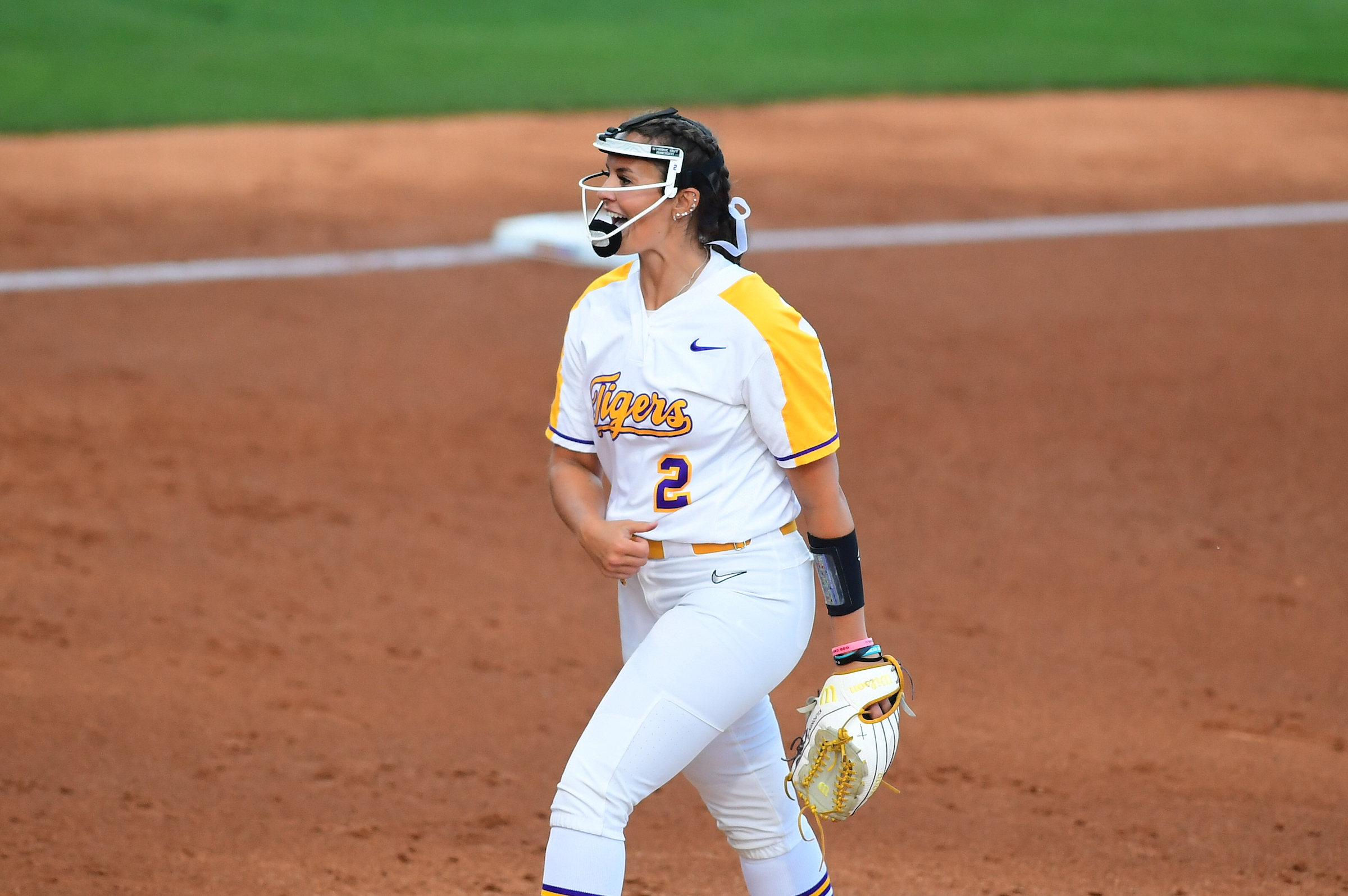 No. 21 LSU only needed one mighty swing of the bat to aptly support Ali Kilponen's pitching effort.
Senior Shelbi Sunseri hit her team-leading 12th homer in the second inning and Kilponen did the rest with a complete-game, three-hit shutout with 10 strikeouts to lead the Tigers to a 4-0 victory Thursday in the opening of a three-game Southeastern Conference series with South Carolina.
The two teams meet again at Tiger Park at 6 p.m. Friday in the second game of the series. The game can be heard locally over 107.3-FM and will be streamed by The SEC Network+
Kilponen (14-4) allowed only a single to Carlie Henderson in the second inning until South Carolina picked up lead-off singles in both the sixth and seventh innings. The junior went on to picked up her 10th complete game of the season and fifth shutout of the year.
"I thought it was good," Kilponen said. "There are some good takeaways that I can use from today and there are also some things that I can improve so I can be better if I have to go in tomorrow."
Kilponen retired South Carolina in order between the 3-5th innings and came right back after yielding singles to Kassidy Krupit and Hannah Kumyama in the sixth and seventh, respectively, with three straight outs in each inning.
She did not allow a base runner to reach second base the entire game.
"We are always working," LSU softball coach Beth Torina said. "I think it is easier to improve after a win than it is from a loss. It is a little easier to go back and analyze some things without feeling so frustrated. Learning from a win is a much better scenario than learning in a loss."
LSU (25-16, 6-7 in SEC) didn't fare much better offensively, getting two hits against South Carolina (23-19, 2-11) pitching.
Georgia Clark led off the second with a walk and Sunseri deposited a 2-1 pitch from losing pitcher Leah Powell (5-5) over the fence in right-center field for a 2-0 lead.
The Tigers added a pair of runs without the benefit of a hit in the fifth with Danieca Coffey's fielder's choice opening the door for catcher Cait Calland and second baseman Sydney Peterson to score.
"She was so good," Calland said of Kilponen. "I think it's just a representation of what she does in practice every day. That's the Ali Kilponen that we all know and see every day at practice, and I think it's so cool that it paid off for her today."