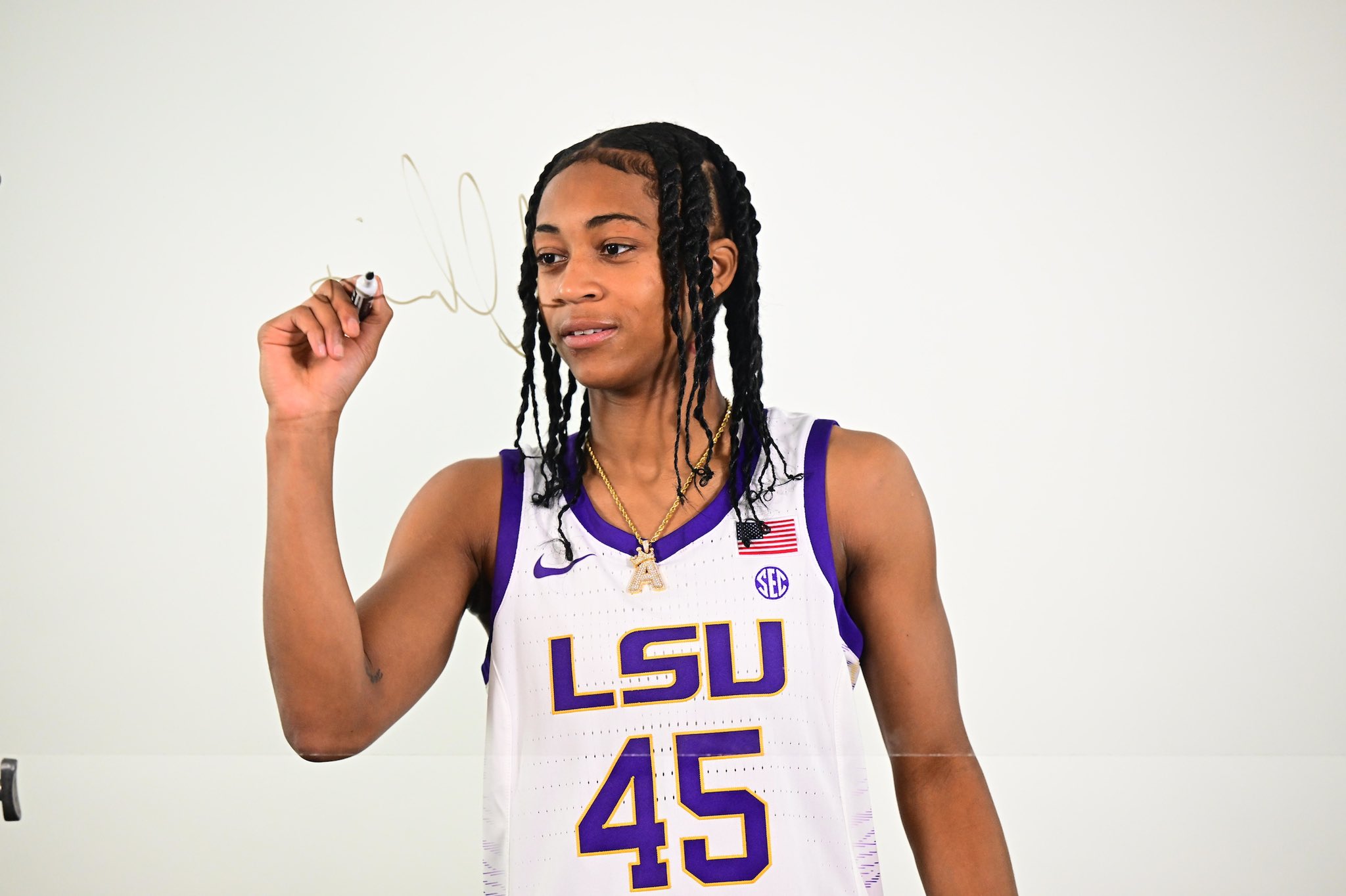 A year after being surrounded by a wealth of experience LSU's Alexis Morris realizes the vast changes the Tigers are facing in 2022-23.
Morris, who played a significant role in LSU's rise to prominence under first year coach Kim Mulkey, doesn't expect an upheavel now that the program's standard has been established.
"We're missing five key players with SEC experience, and as we all know, it's not easy to play in the SEC, but we're piecing it together every day and gelling on the court every day," Morris said during Tuesday's SEC Media Day in Birmingham, Alabama. "We know we can have another great record like we did last year."
LSU went 26-6, finished as the SEC runners-up to national champion South Carolina and reached the second round of the NCAA Tournament.
Gone are first-team all-league selection Khayla Pointer, the team's leader in most statistical categories, along with three other starters, leaving Morris is uncommon territory.
Morris scored in double figures 22 times a year ago, highlighted by a career-high 30, grabbed 4.0 rebounds, 2.4 assists and 1.5 steals. She played off the ball last season as a capable sidekick to Pointer but is being touted for her versatility to play both guard positions and small forward.
"I have to be a better leader," Morris said. "Lead them in every way this year. It's a big role I'm embracing. Every day it's a new challenge."
Not only is she the team's leading returning scorer at 15 points, but Morris is only one of three seniors on Mulkey's second roster at LSU. Reserve guard Ryann Payne also returns after averaging 5.6 points in 30 games last season, while the Tigers also welcome 6-foot-4 Missouri graduate transfer LaDazhia Williams, one of four signees from the NCAA transfer portal.
Mulkey welcomes a total of nine new faces that was ranked No. 16 in The Associated Press' preseason Top 25 on Tuesday.
"That's a concern that you have every year when you recruit freshmen to come to your program, and we brought in a lot of transfers," Mulkey said. "Then we have the returning players. Our theme for the year is Piece it 2 Together. We have talent, but can we all get on the same page?"
But the league's media has taken notice of LSU's new direction.
A year after being predicted to finish eighth and unranked nationally, the Tigers won 13 games and were second in the talent-laden SEC.
South Carolina is the favorite to repeat as league champion, followed by resurgent Tennessee, LSU in third with Arkansas and Ole Miss also in the top five.
"We're excited, and this is fun, and it gets the community involved, but have you to do it year after year after year," Mulkey said. "That's what we're trying to do. So being ranked is not a big deal to me personally, but it is a big deal to our school. It's a big deal to our program because we're now being recognized. You want to be relevant. In order to be relevant, you have to do things consistently. You can't go up and down and up and down."
With losses of such veterans as Pointer, center Faustine Aifuwa, guard Jailin Cherry and forward Autumn Newby, Mulkey was pro-active in transfer portal.
What she did was land one of the nation's top classes that included Williams, 6-3 sophomore forward Angel Reese of Maryland and guards Jasmine Carson of West Virginia and Kateri Poole of Ohio State, the team that eliminated LSU from last year's NCAA tourney.
Williams, who began her career at South Carolina, averaged 12.4 points, 4.2 rebounds and 1.2 blocks in games a season ago for Missouri.
"Sort of like a silent leader," said Williams when asked about her role at SEC Media Day. "I try and lead by example and just help out with the rookies as much as I can."
The addition of Reese, a third team AP All-American, was key after the former No. 2 national recruit helped Maryland to the Sweet 16 last season. The first team All-Big 10 Conference performer led the Terrapins in scoring (17.8) and rebounding (10.6) and is expected to be an impactful player in her first season for the Tigers.
Both Morris and Reese were selected to the preseason All-SEC second team on Tuesday.
"I never coached against Angel Reese, but I can tell you after three weeks of watching her, she's a beast," Mulkey said. "I say that with the utmost respect. That beast is hard to defend. You can't keep her off the offensive boards, and she's a leader vocally, simply from the fact that she just loves to compete. She hates to lose. That has been very obvious to me in the three to four weeks that I've been on the floor with her."
Mulkey also landed one of the nation's top high school signing classes led by Top 25 prospects in guard Flaujae Johnson of Savannah, Georgia and forward Sa'Myah Smith of DeSoto, Texas. The Tigers also added the nation's top junior college player in 5-11 guard Last-Tear Poa, a native of Australia, from Northwest Florida State College.
"We will at some point," Mulkey said of the team chemistry she strives for. "You just don't know when. I have enjoyed coaching them. I think that progress is probably evaluated when you see that you don't have to repeat the same thing over and over and over, and I think we've done a lot in a short period of time with new players."