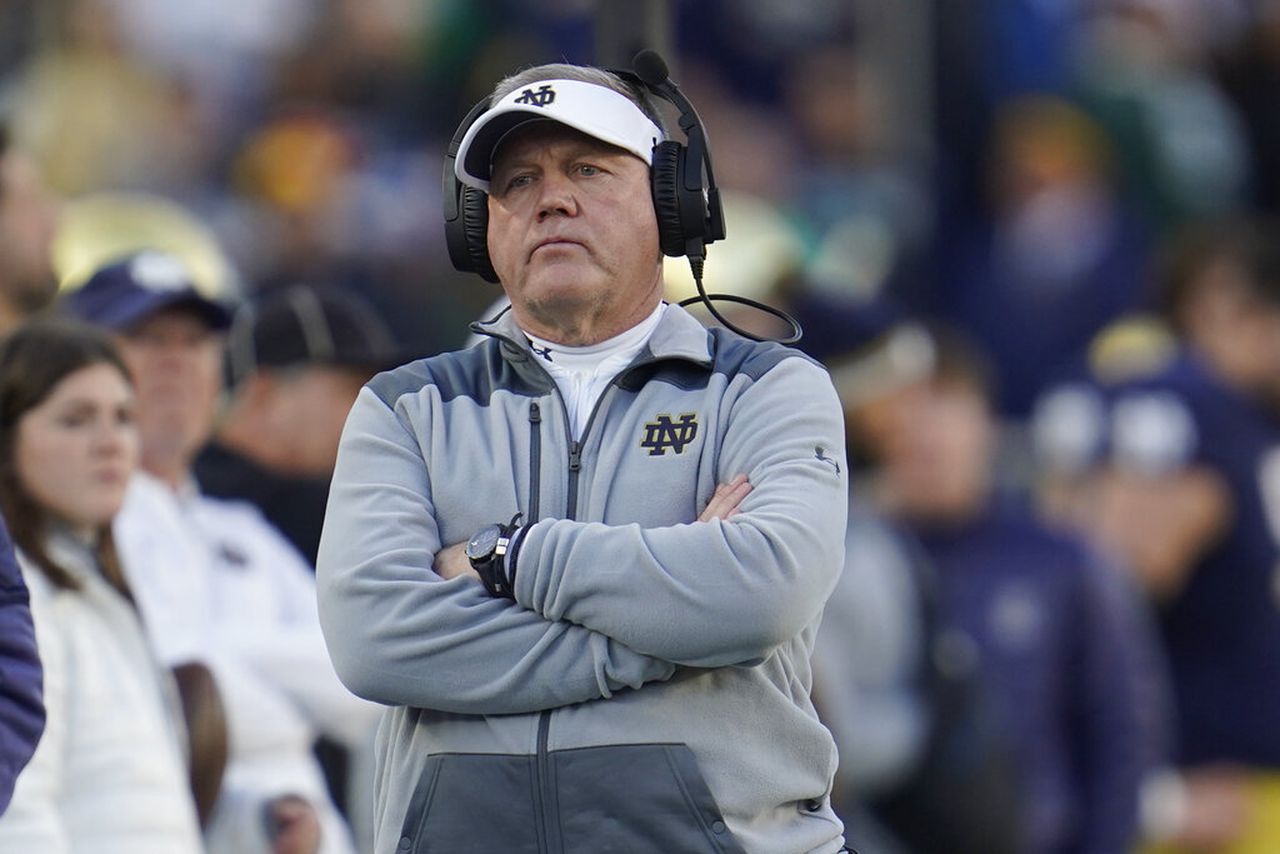 Louisiana-native Ed Orgeron's dream job was becoming LSU's head football coach.
"This is bigger than life," said Orgeron the day he was hired Nov. 26, 2016.
Irish-Catholic Bostonian Brian Kelly's dream job was becoming Notre Dame's head football coach.
"There is a football coach and then there's the football coach at Notre Dame, because nobody, nobody does it like Notre Dame," said Kelly the day he was hired Dec. 11, 2009.
It is also the dream of every college head coach to position himself at a school that has a legitimate chance to win a national championship. Yet it's no accident there's only an exclusive group of programs that have done it.
In the last 32 seasons dating back to 1989, 25 national championships have been won by just eight schools. None of those teams were Notre Dame, which last won a national title in 1988.
The teams that annually have the best shot at the national title are usually located in the states with fertile high school recruiting grounds. Even better is to be in one of those states where there is just a single Division 1 school with multi-million facilities, a winning tradition that spans decades and a huge budget that fuels domination of in-state recruiting.
That is why Nick Saban wanted to coach at LSU when he was hired away from Michigan State in 2000 after a rather unimpressive 34-24-1 record in five seasons.
At Michigan State, he had to battle Michigan for in-state blue-chippers and at LSU no such challenge existed.
There's shock in South Bend that Kelly is walking away from his dream job after 12 seasons with a record of 113-40 (including 21 victories and two postseason appearances later vacated by discretionary NCAA penalty) to reportedly become the Tigers' latest coach.
Just a few weeks ago, Kelly poo-pooed the notion he would leave Notre Dame when his name was mentioned with the USC opening.
"No, I mean, look, I think Mike Tomlin had the best line, right?" Kelly told reporters, referring to the Pittsburgh Steelers coach. "Unless that fairy godmother comes by with that $250 million check, my wife would want to take a look at it first. I'd have to run it by her."
Obviously, LSU is dropping what is likely a record contract – maybe up to an insane $12 million annually if need be – to land Kelly.
But what likely swayed Kelly is that he simply has a better chance to win a national title here than at Notre Dame because he can chase the best recruits in the nation and not have to worry if they can qualify under Notre Dame's stringent admissions policy and keep them academically eligible.
There's also the fact he's in the best recruiting region in the nation where weather is conducive to athletes training year-around in warmer climates, another factor why there is an abundance of quicker four and five-star recruits that have given SEC teams an edge.
While he has had 10-win seasons in six of the last seven years and is the first Irish coach to have five-straight seasons with 10 wins or more counting this year's 11-1 record and current No. 6 national ranking, Kelly has come up empty in the playoffs against superior-talented Southern opponents.
His 2012 team lost 42-14 to Alabama in the BCS national championship. Also, Notre Dame has been in the College Football Playoff two of the last three seasons, losing 30-3 to eventual national champion Clemson in a 2018 semifinal and 31-14 to eventual national champion Alabama last season.
Kelly got tired of answering questions about why his Irish teams kept coming up short.
"Those (Alabama and Clemson) are elite, talented teams that have elite players," Kelly said in a contentious postgame media conference following the 17-point loss to Alabama in last season's CFP semis. "When they're on the perimeter, nobody has shut them down. Tell me who has tackled those guys.
"So, we're going to keep recruiting. We're going to keep getting back here and everybody can keep saying, you know, Notre Dame is not good enough. You know what? You're going to have a problem because we're going to keep winning games and keep getting back here and we're going to break through. And then I am going to be terrible to be at a press conference with. Terrible."
Also, the clock is ticking on Kelly's 32-year head coaching career (13 seasons at Division 2 Grand Valley State, 3 years at Central Michigan, 4 years at Cincinnati, 12 at Notre Dame.
At age 60, he is the oldest head coach LSU has ever hired.
There's also the fact that Kelly and Lincoln Riley, supposedly one of LSU's top candidates before he bolted Oklahoma on Sunday to fill the USC vacancy, have almost identical coaching records over the last five seasons. Kelly is 54-9, Riley is 55-10.
Finally in the end, Kelly was well under weight when he stepped on Woodward's baggage scale check of vetting candidates for any on or off the field issues.
After LSU's Title IX failings that has periodically dominated national headlines since early in the 2020 football season, Kelly had to pass Woodward and school president Bill Tate's white glove test of possessing squeaky clean sensibilities.
As far as being a "splash" hire, it all depends on your definition of splash.
Considering Kelly is the first Notre Dame head coach to leave for another college job since 1907 (Thomas A. Barry left to coach Wisconsin), it's more than a splash hire.
It's Kelly and Woodward jumping off diving boards and screaming "CANNONBALL!"