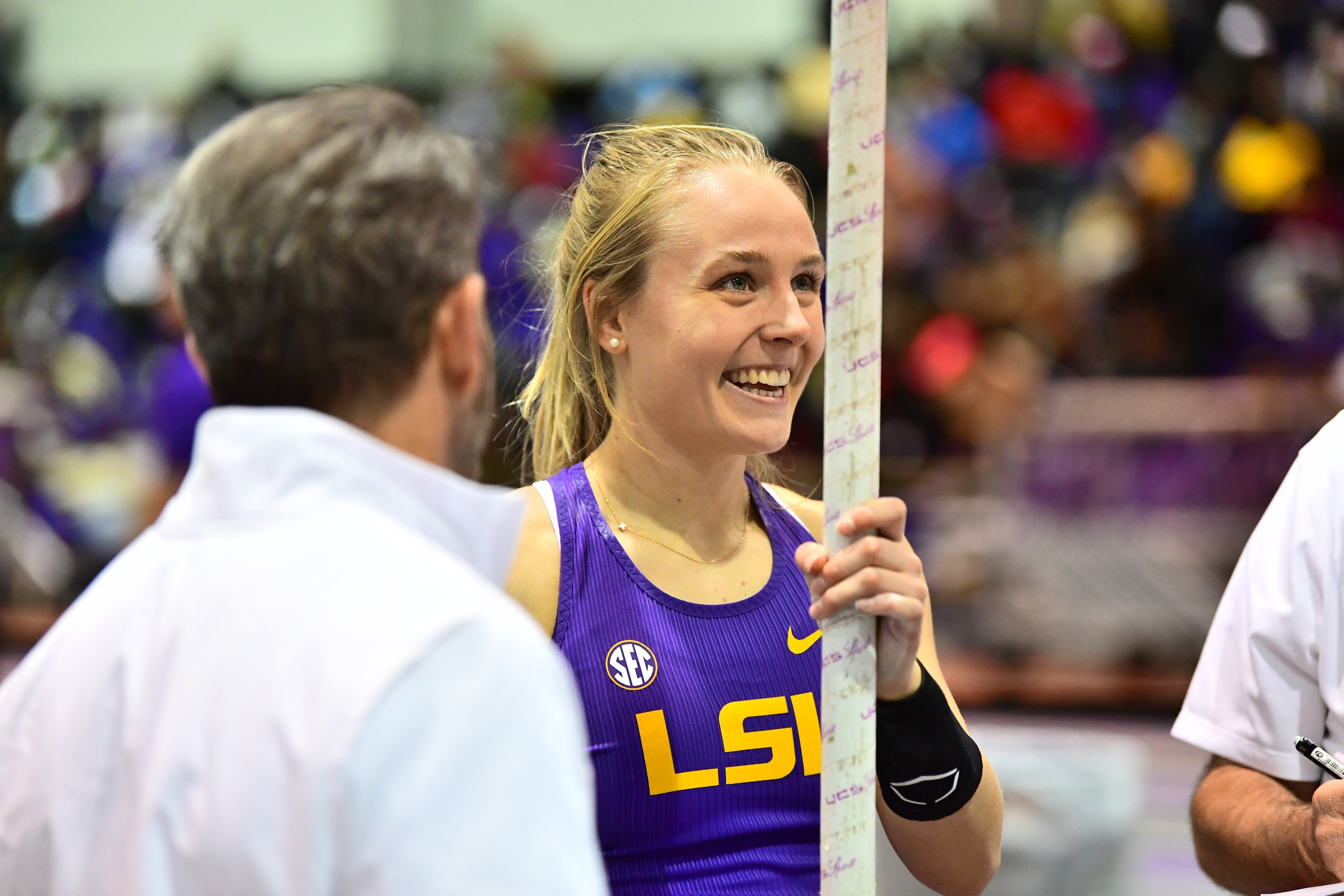 Lisa Gunnarsson opened up her 2022 season at the Bayou Bengal on Friday with an NCAA leading clearance of 14-9 1/2 in the pole vault to highlight action for the Tigers at the Carl Maddox Fieldhouse.
Gunnarsson, the reigning NCAA champion in the event, was perfect en route to victory with a total of four clearances. She opened at a height of 13-7 3/4, before progressing to bars of 14-1 3/4 and 14-5 1/2. Her final clearance of the day came at a height of 14-9 1/2 to take over the NCAA lead in the event.
Amber Hart notched a personal best in the women's shot put with a toss of 51-6 1/4 to take the top collegiate spot in her event. Hart finished second overall behind professional Jessica Ramsey, who won with a mark of 18.30 meters.
All-American Sean Dixon-Bodie made his return to competition with a win in the triple jump with a mark of 52-4 3/4; that mark ranks No. 10 in the national rankings. Kyndal McKnight made it a sweep in the triple jump as she won her second event title of the season with a mark of 41-4 1/4.
LSU had six other event winners on Friday.
Jake Norris started the day off with a win in the weight throw as he won with a mark of 62-10. The Tigers swept titles in the mile run and triple jump, while also winning the women's 800 meters.
Callie Hardy (5:01.29) led a group of six women LSU milers who registered personal bests and was followed by top finishers Adele Broussard (5:07.17/PR) and Sophie Martin (5:07.44/PR).
In the men's mile, it was Garrett Hamilton who came away with a win in a time of 4:16.86, which was a near six second PR. Cade Martin (4:18.23) and Jack Wallace (4:20.39) rounded out the 1-2-3 finish for LSU in the event with career best times. Hardy also ran a personal best of in the 800 meters with a time of 2:19.47 to place second.
Three more distance runners picked up wins to highlight LSU's nine event titles.
Alicia Stamey clocked a personal best of 2:15.41 to win the 800 meters, while both Gwyneth Hughes (10:40.72) and Evan Pardo (8:49.82) notched personal bests to win their first career collegiate races.
LSU had seven other first-place finishes with Apalos Edwards and Ji'eem Bullock finished in second and third in the long jump respectively, with marks of 24-1 3/4 and 23-11 1/4. In the high jump, Morgan Smalls took second in the women's event with a height of 5-6 1/4 and Ronnie Rounds III place third on the men's side with a clearance of 6-7.