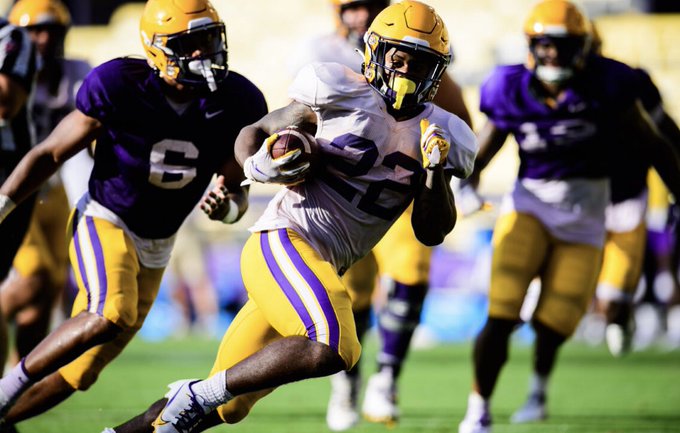 LSU held its first closed preseason football scrimmage in Tiger Stadium Saturday afternoon with head coach Ed Orgeron revealing very little afterwards other than defense won the day.
Other than passing stats from the quarterbacks – starter Max Johnson completed 11 of 19 for 127 yards and 1 TD while backup Garrett Nussmeier completed 11 of 17 for 225 yards and three days – Orgeron offered no statistics for any other facet of the team except the number of catches for a few of the receivers.
"We practiced first, second and third down in the red zone, that was the emphasis of the day," Orgeron said. "It was the first day we tackled. Our defense tackled very well, put a lot of pressure on the quarterbacks.
"I thought it was a great scrimmage, mostly dominated by the defensive line. We had Ali Gaye back. Joe Evans had a good day. Andre Anthony had a good day. Neil Farrell had a good day."
Starting cornerbacks Derek Stingley Jr. and Eli Ricks missed the scrimmage with what Orgeron termed as "camp injuries," something that seems to have plagued the Tigers more than usual after just one week of preseason practices considering the team has practiced in pads just twice.
"That is a concern," Orgeron said. "A lot of it is just the running, guys are running full speed. All these are little camp injuries that are going to get healed. Nothing is major.
"(Defensive tackle) Glen (Logan) broke a foot doing a drill, just bending his foot. Some of these things you can't prevent. Some of them are football injuries.
"But the little amount that we've hit, it's a large amount of injuries."
Here's Orgeron on other subjects:
On the defense
"Today was Ali's (Gaye) first day back full speed. Andre had been hurt a bit. Both those guys were really cranking it up. There were a lot of third down passing situations where they could pin their ears back. Those guys did a tremendous job of pass rush today."
On who's stepping up to be the second and third receivers behind Kayshon Boutte
"Not yet. We're going to have to go some four and five-wide and let those guys play and rotate them in and out.
"Jontre Kirklin and (Evan) Francioni had four catches (in Saturday's scrimmage), Boutte had five, Jaray (Jenkins) had two, Brian Thomas had five catches. All those guys are very talented and we're going to have to let them all play to see what's going to happen.
"I do think as the year goes on, we're going to see who the second guy is and third guy. I think that's going to work itself out."
On the only two scholarship cornerbacks available to play in the scrimmage
"Lloyd Cole and Darren (Evans) played most of the day. Got to commend them. They played very well."
On the performance of the running backs
"I don't have any stats. I thought John (Emery Jr.) ran the ball. (Freshman) Corey Kiner made a tremendous play, made two or three people miss, jumped over a defender. . .same of stuff we saw in high school. (Freshman) Armoni Goodwin made some good plays, got in the defensive backfield. Tyrion (Davis-Price) didn't get many carries (after returning from an injury), Josh Williams got a couple of carries.
"Mainly, it was John and the two freshmen."
On how Garrett Nussmeier has improved since the spring
"His pocket presence, he's settled down a little bit. He's not being careless with the football. The guy is a gunslinger. He can throw the ball downfield from his hip in any position. He made a play again today. He's been more careful in what he's doing. He knows now he could be playing at any time. I think he's more conscientious. He did a good job this summer of learning the offense. He's more patient with the football."
On some of the most noticeable things after a week of preseason practice
"Team chemistry, team bonding, coaching staff bonding. The atmosphere around here has been great. Great leadership, communication. Guys come to work.
"There's some enthusiasm in the (football) office. We have some young coordinators who have never called games before, so they're energetic and they want to prove themselves. It's a good mix among the staff."
On freshman wide receiver Brian Thomas Jr.
"Brian Thomas is a big receiver (6-5, 198) with good moves. Has big, strong hands. He's hard to cover one-on-one, especially in the red zone. He can go up and get it. He's good with yards after the catch with the football. I think he's going to be one of the great receivers we've had here at LSU."
On if any of the linebackers separated themselves from the rest
"Damone Clark, Micah Baskerville are doing very good. Bugs (Navonteque Strong) is doing great work. Jared Small is all over the place. Those four guys have showed up. They will be considered starters and hopefully we can play all four of them."
On calling less run pass option plays because LSU has just two healthy scholarship quarterbacks
"The RPOs are there. The RPOs doesn't mean the quarterback is going to run the ball. He can give it to the running back or throw, depending on the position of the safeties.
"But as far as (calling) true quarterback runs, no, we're not going to do that.
"We ran the quarterback draw (in 2019) with Joe (Burrow), he extended some plays with his feet, we had some movement with him. Those are normal things that you have to do to win the game.
"But as far as down in and down out having a true quarterback run offense, we don't have that."
On improving the pass protection which was shaky in Saturday's scrimmage
"Win the one-on-ones with the techniques we're using. Brad (Davis) has done a tremendous job, he's only had the guys for a limited amount of time. We have to make sure they're understanding what we're teaching. We've got a veteran offensive line. Those guys should be able to protect.
"A lot of young guys got thrown in the fire today. Sometimes they did well, sometimes they didn't. There was way too much pressure on the quarterbacks. So, we're going to watch the film and fix it."
On Clemson transfer Mike Jones Jr. transitioning from outside to inside linebacker
"He's done a great job and he's got a great attitude. He knows, if you played nickel out there or played in the slot, and all of a sudden you're taking on Anthony Bradford who weighs 355 pounds. It's a different world.
"But diagnosing and the physicality, he has no problem with that. He's a great young man. He loves being a Tiger. I think he's going to be a good player for us."
On the difference between the uncertainty and chaos entering last season because of COVID-19 compared to a more focused plan entering this season
"There's a sense of normalcy. Leadership, 18 of 22 starters coming back. Guys made decisions to come back. We've got a great freshman class, coaches that are hungry.
"It's completely different than the atmosphere last year. There were a lot of outside influences that caused negativity. There was some stuff we couldn't control.
"None of that stuff has happened now. COVID seems to be for us. . .we still have our standards which we need to follow. But it's not that we're thinking we're going to play or not going to play. We feel like we're going to play and the stands are going to be full. So, we're excited about that."