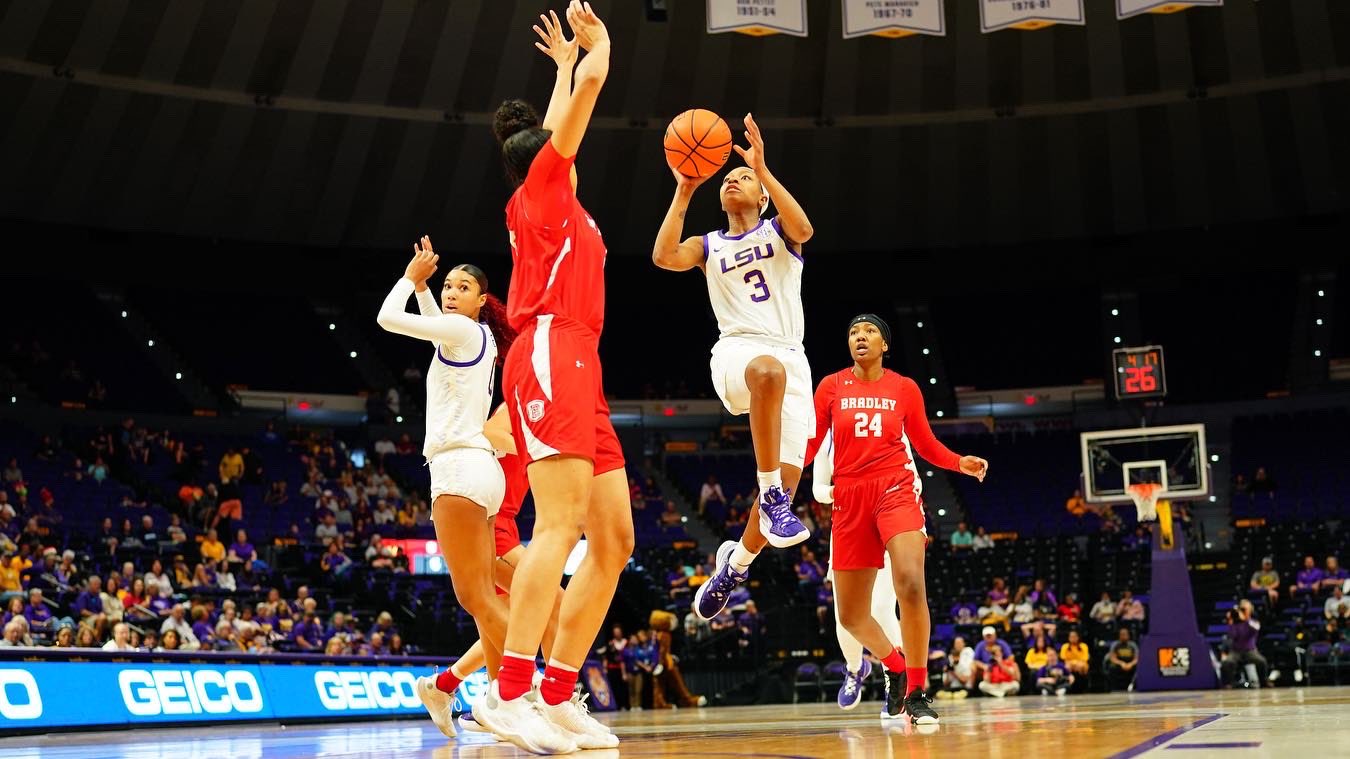 For the first time in four years the LSU women's basketball program's sending one of its own to the WNBA.
Graduate senior point guard Khayla Pointer, who rose to one of the nation's best at her position, was drafted with the 13th overall selection by the Las Vegas Aces in Monday's WNBA Draft which was a total of three rounds and 36 players.
Pointer was joined in the draft and in Las Vegas by graduate center Faustine Aifuwa who was selected with the 35th overall choice in the third round by Las Vegas.
They join current Las Vegas roster member Theresa Plaisance, who is a former LSU standout. She was drafted in 2014 by Tulsa (now Dallas) in the third round, played in both Connecticut and Washington before being traded to Las Vegas last month.
The 5-foot-7 Pointer, a native of Marietta, Ga., was taken with the first pick of the second round by Las Vegas which features her aunt Nikki Fargas, as the team's president. Fargas is also her former coach before resigning last April following a 10-year stay at LSU where Kim Mulkey took over and guided the Tigers back to national respectability.
The last time the Tigers had some represent the program in the WNBA Draft was 2018 when guard Raigyne Moncrief-Louis was drafted in the third round by the Las Vegas.
Pointer finished her distinguished career as the only player – male or female – as the only to ever score at least 1,500 points with 500+ rebounds and 500+ assists. Her 599 assists rank second best, and 1,934 points are sixth best.
She decided to return for a fifth season as a graduate student and enjoyed the best season of her five-year career which coincided with LSU enjoying its best season in 14 years with a 26-6 record, second-place finish in the SEC and second round appearance in the NCAA Tournament.
Pointer, whose 37 minutes per game led the SEC, topped LSU in scoring (19.6) and assists (5.3) and was third in rebounds (6.4). She was one of two players to rank No. 2 in scoring and assists and was 17th in rebounds.
She reached double figures in 29 of 32 games, including a career-high 35 at Florida in Jan. 23, put together a stretch of 16 consecutive games of double-figure scoring, had seven doubles-doubles and a pair of triple-doubles.
Pointer was selected to the first team All-SEC team for the second straight season and was chosen to both the second team All-America squads by Sports Illustrated and The Associated Press and third team by the United States Basketball Writers Association.
The 6-5 Aifuwa, who redshirted after a knee injury, spent a total of six seasons at LSU where she finished with 1,304 points, 976 rebounds and 240 blocks. She shot 46.2% from the field over her career.
Aifuwa, a 2020 choice on the SEC's All-Defensive team, finished as the team's third-leading scorer (9.7) and second-leading rebounder (6.8) and top shot blocker (1.63). She had four double-doubles and finished with careers highs of 20 points, 14 rebounds and 7 blocks.
Aifuwa, a native of Dacula, Ga., matched former All-American Sylvia Fowles as the only player to lead the team in blocks in each of her five seasons.