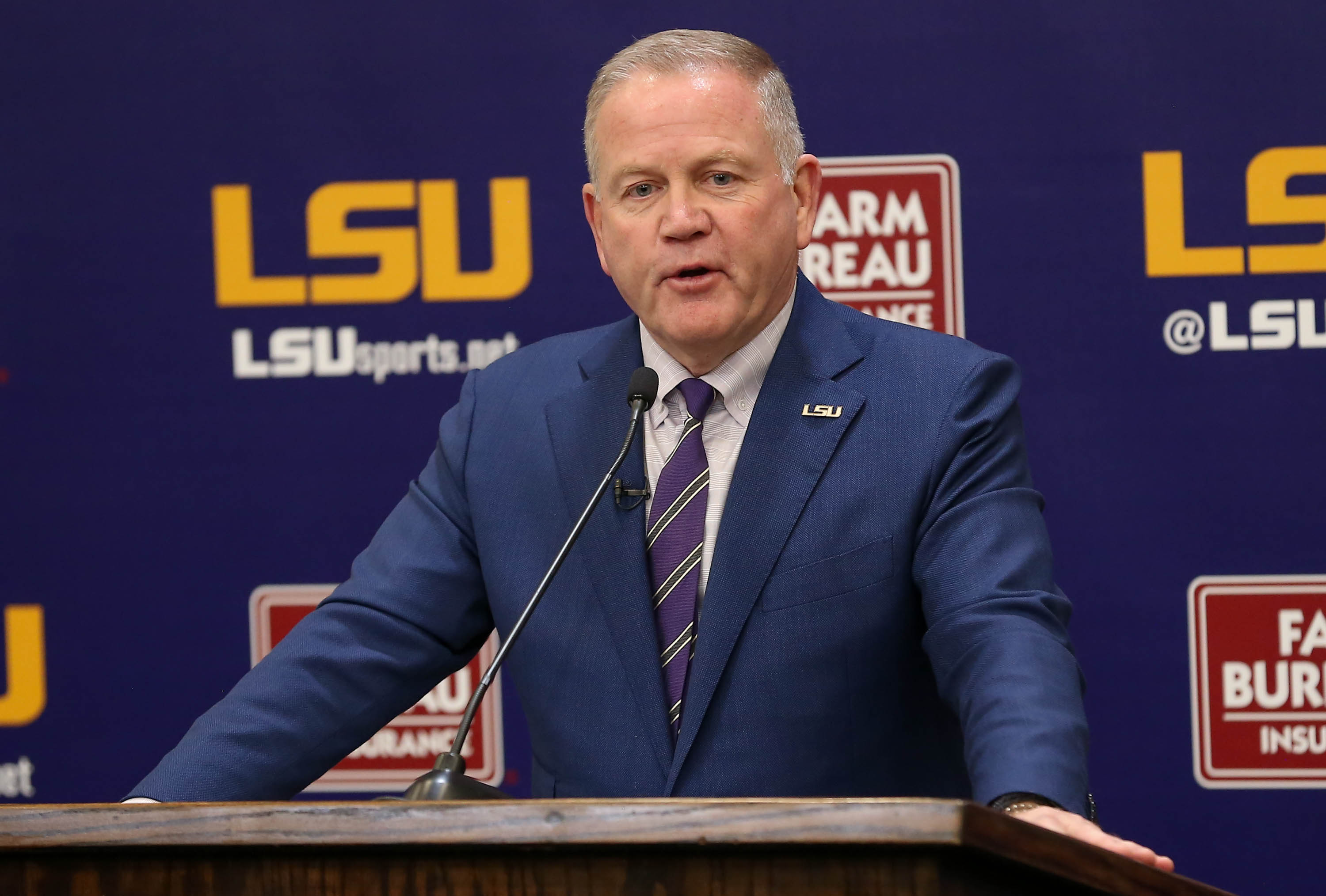 Brian Kelly was introduced to Mike Denbrock in 1987 while both were graduate assistants at Division II Grand Valley State.
Kelly, who became Grand Valley State's head coach in 1991, hired Denbrock as offensive coordinator prior to his second season. He thought so much of Denbrock's football knowledge that he moved him to defensive coordinator in 1996, the same position Kelly once held on the staff.
Thus began a relationship that has lasted through Grand Valley State, Notre Dame and now a third tour of duty at LSU.
"I was a young coach and I was the defensive coordinator, so think of all those guys who were defensive coordinators that took over and he was the first coordinator," Kelly said. "That's usually not an enviable position and we were still friends after that."
After leaving Notre Dame for LSU in Nov., Kelly reached out to Denbrock about running his offense for the third time. Denbrock, then the OC at Cincinnati, jumped at the chance after the Bearcats lost to Alabama in the College Football Playoff Semifinals.
"I'm a person who loves to challenge himself and puts himself into a position where I've got to learn and grow and develop my knowledge and understanding of the game," Denbrock said. "The other piece of it was watching over the years from afar all the great offensive talent that has played at this great school.
"Those are the guys we want to make proud of what we do here and I wanted to be a piece of solving that issue for this university."
Kelly assembled a group with trusted hands and new faces alike. Denbrock, special teams coordinator Brian Polian, safeties coach Kerry Cooks and strength and conditioning coach Jake Flint spent time with Kelly at Notre Dame.
His inaugural LSU staff includes seven assistants who have never worked with him before.
"I'll circle back with coaches that I've coached with before and them so coaches I've never worked with, but there's always some kind of connection," Kelly said. "Somebody knows somebody that knows somebody when you've been in this business as long as I have, so I think I'm at a point in my career where there is a connection in some fashion even if there's not a direct connection."
Defensive coordinator Matt House, the Kansas City Chiefs linebackers coach for the past three seasons, impressed Kelly with his work at previous stops. Kelly's Notre Dame teams faces House's defenses at Pittsburgh.
When House emerged as a candidate to run Kelly's defense, he received the blessing of LSU greats and current Chiefs like Tyrann Mathieu and Clyde Edwards-Helaire.
"Of any place I've been, this is the most passionate former players I've ever seen," House said. "Those guys love this university; love this state and they want to do anything they can to help it be successful."
Whether intentional or not, the staff represented a unified message of matching schemes to the available personnel. LSU's roster was decimated by attrition during the 2021 season, By the time the Tigers made it to Houston for the Texas Bowl, only 38 scholarship players were available for the 42-20 loss to Kansas State.
As recruiting coordinator, Polian helped LSU sign a consensus top-20 recruiting class with less than two months to work with. The additions from the transfer portal were ranked among the nation's best.
"So many people on this campus helped us put this class together in what was really a dead sprint from the time we arrived in mid to early December," Polian said. "We were learning on the fly all the different facets of the athletic department and the university administration.
"There are too many people to name individually but we do want to recognize all the help that came from outside the football operations center."
Denbrock will collaborate with the offensive staff to develop a scheme that accentuates LSU's talent. The offensive staff oozes with Louisiana ties. Frank Wilson, the associate head coach and running backs coach, returns to Baton Rouge for his second tour of duty.
Quarterbacks coach Joe Sloan spent the past eight years at Louisiana Tech, while offensive line coach Brad Davis was retained after coaching LSU in the Texas Bowl. Cortez Hankton, the wide receivers coach and passing game coordinator, is a New Orleans native who held the same title for the national champion Georgia Bulldogs.
Wide receiver Kayshon Boutte, LSU's best offensive player, missed seven games with an ankle injury. Denbrock anticipates the quarterback competition between Myles Brennan, Garrett Nussmeier and Walker Howard to play out in spring and fall practice.
"Those players need to be utilized to their talent level," Denbrock said. "How much we branch out from that will depend on the makeup of our team moving forward."
On defense, House has run the 4-3 and 3-4 systems in coordinator stops at Pittsburgh, Florida International and Kentucky. His schematic versatility made him an attractive candidate to Kelly.
Defensive line coach/run game coordinator Jamar Cain and cornerbacks coach Robert Steeples have also worked in both schemes.
"Offensive-minded coaches will tell you if you line up one way, you're going to have a long day," Kelly said. "Defensively, we're going to be able to give you multiple looks and try to keep the personnel as constant as possible and make it difficult for the offense to know what they're getting down to down.
"That's really the game today. If you're constantly moving personnel and multiple packages in and out of the game, it make sit a little bit more of a game for the offense because they can change tempo on you, so we're going to try and have the pen last in a lot of those situations."
House has yet to settle on a base defensive scheme. LSU received a boost when defensive ends BJ Ojulari and Ali Gaye decided to return for another season. Transfer portal additions Greg Brooks Jr. (Arkansas), Joe Foucha (Arkansas) and Mekhi Garner (Louisiana-Lafayette) are expected to bolster a defensive backfield that lost Derek Stingley Jr. (NFL Draft), Eli Ricks (Alabama) and Dwight McGlothern (Arkansas).
"As coaches and a coaching staff, we have the experience and versatility to put them in good situations, but there's a process of learning what your guys can and can't do for you," House said.
"That's the process of going through this winter, going through spring ball and we'll kind of morph into what we can become."